Try this super-quick and awesome broccoli recipe. If you like blue cheese then you'll love this dish, in fact, you'll actually love broccoli if you only just liked it before …I know, kinda confusing, but trust me, this is a pretty damn tasty broccoli dish–and healthy, too. So make it.
Bad-ass Blue Cheese Broccoli Recipe Ingredients:
5 cups BROCCOLI FLORETS
¼ cup CARROT strings
2-3 oz BLUE CHEESE crumbled
¼ cup SUNFLOWER SEEDS (shelled and toasted)
SALT and PEPPER to taste
directions:
Toast the sunflower seeds (already shelled). This can be done quite quickly in a hot pan or skillet. Heat pan or skillet on medium/med-low heat; not too hot or seeds will burn. Add sunflower seeds and spread them into a single layer. Do not use any oil or spray in the pan. Stir the seeds in the skillet for a couple of minutes until they begin to brown, lightly browned is perfect; they're easy to over-toast, so don't leave them too long. It will only take 2 minutes on medium heat.
Remove seeds from heat and set aside.
Cover the bottom of a pot with about ¼ inch of water, just enough for steaming the broccoli and carrots. Add The broccoli florets to the pot and top with the carrot strings. Raise the heat, cover the pot, and allow the veggies to steam for approx. 5 minutes; ideally the florets will be cooked through, soft but not soggy!
Turn off the heat and drain any remaining water in the sink. Add salt, pepper, the toasted sunflower seeds, and 2-3 ounces of crumbled blue cheese.
Lightly toss ingredients together and serve while hot.
This dish is super-simple and amazingly delicious –as long as you like blue cheese.
Give this broccoli recipe a try and let me know what you think, and bon appétit!
And for another great veggie dish, try this tasty Beet Greens Recipe.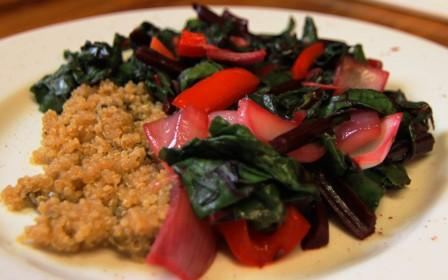 Print Recipe