If you've never tried parsnips before, this parsnip soup recipe is an easy introduction.  Blended up, this dish is super creamy without a drop of cream, which is a healthy low-cal option and makes my belly happy on several levels. Parsnips are available year round. They resemble carrots, but are paler and have a stronger flavour. Give this parsnip soup recipe a try—it's guaranteed super delicious or your money back.
What You Need For This Parsnip Soup Recipe
1 lb PARSNIPS (chopped for soup)
1 large POTATO (chopped for soup)
1 medium ONION (chopped)
2 Tbsp OLIVE OIL
1 Tbsp CURRY POWDER
1 tsp CUMIN POWDER
1 tsp CORIANDER POWDER
2 cups BROTH (chicken or vegetable)
2 cups WATER
SALT (to taste)
CORIANDER LEAVES (chopped, garnish)
How to Make Parsnip Soup
In a soup pot, heat olive oil on medium high heat and add onions and cook for 1 minute.
Add parsnips and potatoes and continue cooking until the onions are soft.
Add curry, cumin, and coriander powder and mix well. Add 4 cups of liquid— ½ broth and ½ water .
Bring contents to a boil, add salt, then reduce heat to low, cover, and simmer for 30 minutes.
After a half hour the parsnips and potato should be quite tender. For a creamy texture, blend soup as desired—no milk or cream are needed. I like to leave a few chunks of potato unblended, and garnish with chopped coriander leaves.
And that's it…give this parsnip soup recipe a try and let me know what you think!
Bon appétit!
Parsnip Fun facts:
In Roman times parsnips were believed to have been an aphrodisiac.
In Scotland parsnips are still known as White Carrots.
Are a favourite with gardeners because of the short growing season.
People used to believe that eating parsnips could relieve a toothache or tired feet.
Half of the carbohydrates in parsnips are sugar, and the rest is starch.
Parsnips were once used to sweeten jams and cakes before sugar was widely available.
And if you're still in a soup mood, try this Ginger Lentil Soup Recipe.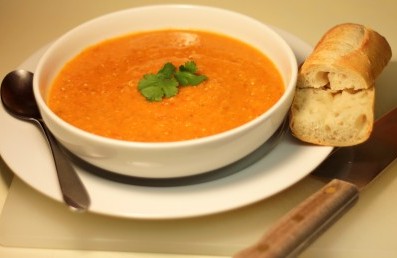 Thanks for watching. If you enjoyed the recipe, click some of the buttons below and share it with friends and family. I appreciate it!
–Chef Buck

Print Recipe