This garlic quinoa recipe makes a terrific side dish. I use quinoa often to provide the protein in vegetarian meals, but quinoa is also a smart choice to serve with other proteins. This garlic quinoa side is filling and tasty, and a great accompaniment for many meat and fish dishes.
Garlic Quinoa Recipe Ingredients:
2 cups QUINOA
3 cups WATER
3-4 cloves GARLIC (finely chopped)
2 Tbsp OLIVE OIL
SALT and PEPPER to taste
and add chopped PARSLEY …if you like, man
Garlic Quinoa Recipe Directions:
In an oven proof dish, add 3 cups of water.
Add in the olive oil, or melted butter.
Add the quinoa.
Add finely chopped garlic. I find 3-4 cloves to be plenty (this is one of those rare dishes where I have found too much garlic to be too much).
Add salt and pepper to taste.
If you want to add a little heat, add some finely chopped red chilis (it adds a nice color, too), or just a little cayenne pepper.
Stir the ingredients together well and place top or foil covering over the baking dish.
Bake in an oven preheated to 350 degrees Fahrenheit for 90 minutes. No attention to the dish is required while baking.
After 90 minutes, remove the dish from the oven, uncover and let set for a few minutes.
Fluff with a fork and serve.
It's a great side dish for meat, fish, and vegetarian meals.
Any leftovers can be used to make quick quinoa salads.
Give this Garlic Quinoa Recipe a try and let me know what you think, and bon appétit!
Quinoa is a terrific ingredient to incorporate into your diet for many reasons, here are a few:
1) It is a complete protein (provides all essential amino acids).
2) High in fiber and nutrition.
3) High in magnesium and iron.
4) Is low on the Glycemic Index, making it a good choice for blood sugar regulation.
5) it can easily be substituted for rice in many recipes
For more quinoa inspired recipes, check out my QUINOA PLAYLIST.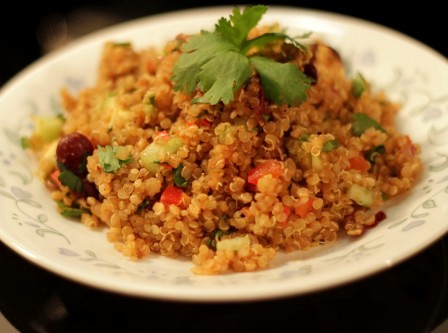 Print Recipe