Hearts of palm are often used in salad recipes. Heart of palm is literally the edible core of a palm tree stem. It's easily found sold in cans, but CG scored a fresh heart of palm, so we'll take a look at this weirdo veggie and make a simple, but very tasty salad. Canned hearts of palm are not as crunchy as fresh heart, so be sure and add CELERY to this recipe when using canned hearts of palm.
Hearts of Palm Recipe Ingredients:
1 heaping cup sliced HEART OF PALM
15oz can MIXED BEANS
1 tsp GINGER (minced)
½ cup CILANTRO
½ cup GREEN ONIONS (chopped)
dressing:
2 Tbsp LEMON JUICE
½ tsp LEMON ZEST
1 Tbsp RICE VINEGAR
1 Tbsp heavy OLIVE OIL
2 tsp SOY SAUCE
SALT and PEPPER to taste
if using canned hearts of palm, add ½ cup chopped CELERY
(and toasted nuts are never a bad idea, either)
Hearts of Palm Recipe Directions:
If using fresh heart of palm, slice away the bamboo-like outer hull and remove the heart. fresh heart of palm has a great texture, a little crunchy with a creamy after taste; this slight crunch makes fresh heart of palm ideal for salad–canned hearts of palm are not as firm, so be sure to add ½ cup celery to this recipe if using canned hearts of palm.
In a bowl, combine the beans, heart of palm, cilantro, ginger, and green onion. A mix of beans is ideal…different beans will add a variety of textures.
In a smaller bowl, combine the dressing ingredients and whisk well–super well!
Add the dressing to the salad and toss.
And that's it.
We found this simple combo to be quite tasty. You can always add more ingredients, but sometimes simple is best.
Be sure to add celery for crunch if using canned hearts, and toasted nuts are always a great crunchy element for salads–plus they add protein to the dish as well.
Give this heart of palm recipe a try and let me know what you think, and bon appétit!
And for another tasty salad idea, check out this Black-eyed Pea Salad.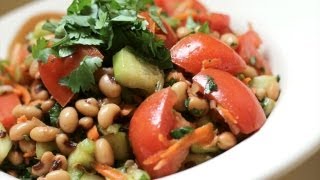 Click on Pic for Recipe

Print Recipe