Wow! This is super flavorful Moroccan chicken stew recipe. The combo of lemon and olive add a tangy richness to the broth and add a nice twist to your expectations of a chicken stew. Chef Bill cooked up this wonderful Chicken tagine and we had the camera running to catch it all. Give this delicious recipe a try and you will not be disappointed.
Ingredients for Chicken Stew:
2 1/2 lbs CHICKEN Pieces (skinned)
1 Tbsp OLIVE OIL
1 cup ONION (chopped)
2-3 cloves GARLIC (finely chopped)
1 cup CHICKEN BROTH
2 cups pitted WHOLE GREEN OLIVES
1 tsp ground CINNAMON
1/2 tsp CUMIN
1/2 inch GINGER (minced–or substitute 1/2 teaspoon ground ginger)
1-2 tsp LEMON ZEST
1/4 cup LEMON JUICE
1 Tbsp CILANTRO (chopped)
SALT and PEPPER to taste
How to Make This Chicken Tagine
Heat olive oil in a pot over high heat. Season chicken with salt and pepper and then place in pot. Brown chicken appox. 3 minutes each side and then remove from pot.
Add onion and garlic and saute in juices for a couple of minutes. Return chicken to pot and add Chicken Broth.
Add olives. Add cinnamon, cumin, and ginger. Stir, and bring pot to a boil. Reduce heat, cover, and simmer for 45 minutes.
After 45 minutes, uncover, turn chicken, and let cook 15 more minutes.
Using a slotted spoon, remove chicken and olives from pot and place in a serving dish. To the broth in the pot, add lemon juice, zest, and cilantro.
Serve the chicken and olives over rice or couscous and top with broth as desired. The olives are fantastic.
And the chicken is, too!
Give this terrific chicken stew a try and let me know what you think, and…
Bon Appétit!
And try this tasty Cornish Hen Recipe, too.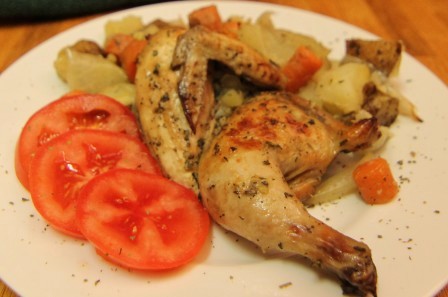 Print Recipe