Thai Beef Salad is an easy recipe to prepare with lots of room for nuance, i.e., using whatever the hell you have in the fridge. I like to use sirloin steak since it's a good piece of meat that doesn't cost an arm and a leg and you can generally buy a nice cut that makes for good slicing. Season your steak up well, don't overcook it, and let it rest well before slicing–these 3 steps are key for a great steak salad.
Ingredients for Thai Beef Salad
¾ lb SIRLOIN STEAK
1 Tbsp OLIVE OIL
2-3 cups SALAD GREENS (don't use so much green that the steak is lost!)
3 GREEN ONIONS (chopped)
½ CUCUMBER (matchstick cuts are nice)
½ CARROT (thin cut–cut into strings is nice, dude)
1 Tbsp CHILI PASTE (more or less, depending on desire for heat)
1 tsp LEMON GRASS (minced) (sub extra ginger if lemon grass is not used)
1 tsp GINGER (minced)
1 LIME JUICE
½ cup CILANTRO (chopped) …thai basil and mint leaves are nice, too.
1 tsp CHILI POWDER
SALT and PEPPER to taste
How to Make a Thai Beef Salad
First, mix up your dressing. Lemon grass is a key component in many Thai dishes and makes a nice addition to this steak salad. Cut off the upper leaves of the stalk and the very bottom,leaving about 5-6 inches. This is generally the only part of the lemon grass used in recipes and is sometimes sold already cut into these sections in grocery stores. The outer part of the stalk is often very tough, so cut away the outer layers to reveal the softer core. Finely mince about an inch of the lemon grass core and add it into a bowl. Add finely chopped ginger, chili paste, lime juice, salt, and mix ingredients well. Set dressing aside and season sirloin steak.
Season both sides of the steak well–I like salt, pepper, and chili powder–but use whatever seasonings you desire (and season it well!). Heat oil in a skillet and cook the steak quickly on high heat, turning once and sealing the juices inside. Do not overcook the steak or puncture it with a knife or fork. Set the steak aside to rest at least 10-15 minutes, this will keep the juices from running when the steak is sliced.
While the steak rests, preare the salad. Use whatever greens you desire, but don't use so much salad that the steak becomes just another component–allow the steak to be the star of the dish.
Tear salad greens into a bowl and add thinly cut carrots, cucumber matchsticks, chopped green onions, and chopped cilantro (also try fresh chopped basil and mint). Add salad dressing and toss.
Cutting against the grain of the meat, slice steak into thin strips and add to the salad. Add any juices from the steak and toss salad.
Garnish with toasted sesame seeds, and that's it, man.
Enjoy.
For another great meal, try this Juicy Pork Loin Recipe!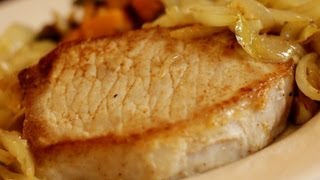 If you enjoyed the recipe, please click some of the buttons below to share it with your friends and family, thanks!
–Chef Buck

Print Recipe