This spicy chorizo sausage recipe is a Spanish inspired sausage and potato stew that is super-flavorful and delicious–and hearty, too.
ingredients:
1 lb CHORIZO LINKS
3-4 Tbsp OLIVE OIL
1 lg ONION (chopped well)
4-5 cloves GARLIC (thinly sliced)
3 ROMA TOMATOES (diced)
3 lg POTATOES (cut into approx 1″ pieces)
14 oz can BROTH (add water as needed)
1 BAY LEAF
1 tsp SMOKED PAPRIKA
1 Tbsp CHILI POWDER
¼ tsp CAYENNE PEPPER
½ tsp ground THYME
SALT and PEPPER to taste
Heat olive oil on med. high heat in a deep skillet or wide-bottom pot. Add onion and garlic and saute. As the onion begins to soften, add bay leaf, salt, chili powder, cayene pepper, and paprika. Stir well and continue sauteing ingredients for 4-5 minutes. Add chorizo sausage–use UNCOOKED chorizo links; slice the links in the casing, about ½ inch wide pieces. Cook the sausage with the onions for 5 minutes and then add tomato (3 diced roma tomatoes or 14oz can diced tomatoes). Mix tomato with onion and then add potato. I like to leave the skin on the potato mainly because it tastes GOOD. And then you don't have to peel the potatoes either, which is good, too. The potato should be cut up into good sizes, about 1″ pieces, so that you'll have some good chunks of potato after the dish stews. Cover the skillet and bring the dish up to a bubble. Reduce the heat to a simmer and add dried thyme. Cover, and let simmer for about 30 minutes or until the potatoes are cooked through–stirring occasionally as needed. And that's it. Give it a taste and add a little more salt and seasoning as desired. Garnish this chorizo recipe with fresh chopped parsley, cilantro, or green onion…and enjoy!
For another great stew idea, check out this rib-sticking Beef Stew Recipe.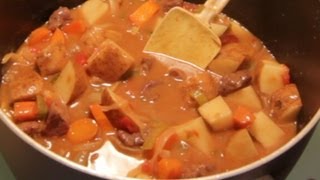 Print Recipe