This canned artichoke heart recipe is quick and tasty and easily prepared. And if you use quick-cook Chinese flat noodles, from start to finish–including prep time–this dish only takes about 10 minutes to make.
Artichoke Heart Recipe
ingredients:
14 oz can quartered ARTICHOKE HEARTS
¼ cup BUTTER
¼ cup OLIVE OIL
1 lg ONION (chopped)
5 cloves GARLIC (finely chopped)
2-3 Tbsp CAPERS
8 oz PASTA
2-3 Tbsp LEMON JUICE (optional)
SALT and PEPPER to taste
In a large skillet on medium-high heat, add olive oil and most of the butter. When oil is hot, add onion and garlic and saute until onions begin to soften (for a spicier dish, add a minced chili pepper in with the onion). Add artichoke hearts, capers and salt to taste and continue sauteing for 2-3 minutes. Occasionally I'll add the juice and zest of ½ a lemon, which is a pretty tasty option, so definitely give it a try sometime. Add any remaining butter to the skillet. I know, it seems like a lot of butter and oil, but that's one of the reasons it's so damn good–and it's an Italian-style dish, so go figure. Add cooked pasta to the skillet. I like to use quick-cook chinese flat noodles since it's easy to time with the cooking of the sauce, but use any kind of pasta you like, just allow enough time for cooking. And for a wetter sauce, add a little bit of the pasta water to the skillet. Mix pasta and sauce in skillet and then serve immediately. Garnish with fresh chopped parsely or thyme–or just add a few more capers. Serve with parmesan cheese if desired. It's a quick, easy artichoke heart recipe and a great use of canned artichoke hearts.
Give the recipe a try and let me know what you think, and bon appetit!
It's not really pasta, but give this Spaghetti Squash Recipe a try.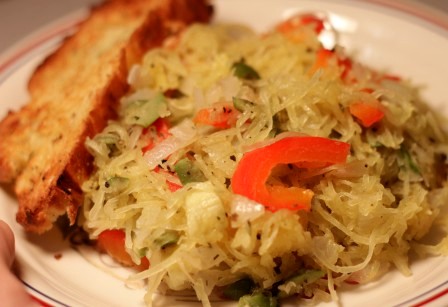 Print Recipe