Stewed prunes are a tasty breakfast side or snack –even a passable dessert, if you don't have a clear understanding of what a dessert is. Orange and ginger make this stewed prune recipe naturally sweet and flavorful.
Stewed Prune Ingredients:
2 cups pitted PRUNES
1 Tbsp ORANGE ZEST (minced)
juice from 1 large ORANGE
1-2 tsp minced fresh GINGER
directions:
Zest 1 large orange. Use approx. 1 tbsp of minced zest for this recipe. Juice the orange.
In a small saucepan on medium heat, add the prunes and orange juice. Add just enough water to cover the tops of the prunes (don't use too much water). Stir in the orange zest and minced ginger. Some folks like to add a little brown sugar or maple syrup for added sweetness, but I don't think it's needed; prunes are sweet enough and the orange juice will add plenty of natural sugar (I'd only add extra sugars if I were using the prunes for a dessert application). Cover and allow saucepan come to a bubble. Reduce heat to low, and simmer gently for 25-30 minutes. The liquid will cook down and the prunes will plump up.
And that's it. Eat them plain or serve them with yogurt or cereals. They make a great breakfast side. Some people like to treat them like a dessert–even serving them with ice cream–which isn't my style, but whatever floats your boat.
Stewed prunes make a tasty treat and are a great source of fiber and nutrition.
Prunes can be stewed up with all manner flavors. Some popular additions to stewed prunes are cinnamon, cardamom, cloves, brown sugar, and maple syrup.
Pitted prunes make a great snack all on their own, and stewing them up makes them a little more versatile. Give this stewed prunes recipe a try and let me know what you think…and bon appétit!
Prune Fun Facts:
Prunes are high in fiber and a natural laxative.
The word "laxative" is not very appetizing.
Ounce for ounce, prunes contain more potassium than bananas.
Prunes are fat free.
Prunes can reverse bone loss and preserve bone structure, reducing the risk of brittle bone fracture.
Serve stewed prunes as a side for this fancy-pants Poached Egg w/ Spinach & Smoked Salmon Breakfast.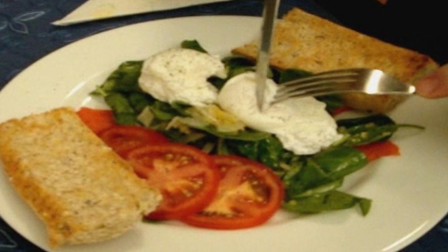 Print Recipe