A quinoa salad recipe inspired by the tasty flavor combinations found in a Vietnamese bánh mì sandwich. Quinoa provides a complete protein, making this dish an ideal vegetarian recipe.
Quinoa Salad Recipe Ingredients:
1 cup QUINOA (uncooked)
2 cups DAIKON/CARROT RELISH (chopped)
2-3 JALAPENOS (finely chopped)
2 cups SALAD CUCUMBER (diced)
1 cup chopped CILANTRO
3 Tbsp MAYONNAISE
1 small LEMON (zest and juice)
2 Tbsp rice VINEGAR
SALT and PEPPER to taste
SALAD GREENS (I use a combo of Spinach and Red Leaf Lettuce, but use your favorite)
directions:
Cook up the quinoa just like rice: 1 part quinoa to 2 parts water, bring to a boil, reduce heat, cover and simmer for 15 minutes or until the water is absorbed. Fluff the quinoa and then set aside uncovered to cool.
Prepare the veggies: Dice 1 large salad cucumber, also called an English cucumber; these are great in a salad because the skin is thin and quite enjoyable to eat, and also adds a nice texture. Finely chop 2-3 whole jalapeno peppers, seeds and all. Chop 1 bunch of cilantro, including the stems. Chop 2 cups of pickled daikon and carrot.
Prepare the dressing: Remove and mince the zest from 1 small lemon and place in a small bowl. Add the juice from the lemon, rice vinegar, mayonnaise, and salt and pepper. Mix well until the dressing is smooth.
In a large bowl, place the cooled quinoa. Add ½ of the dressing, the jalapenos, cilantro, and daikon/carrot, and mix well. Add the diced cucumbers and toss. Add salt and pepper, and more dressing as desired. I also add a bit of the pickling solution from the daikon/carrot pickle.
Serve the quinoa salad over a bed of leafy greens and garnish with cilantro.
Give this banh mi inspired quinoa salad recipe a try and let me know what you think, and bon appétit!
And for another tasty quinoa dish, try this Spanish-Style Quinoa Recipe.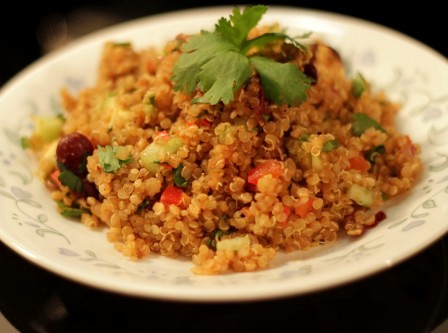 Print Recipe