Parsnips are delicious and can be cooked into a great mash, just like potatoes. You can make this parsnip recipe as smooth or chunky as you like; I like it a little chunky–and I throw in a potato, too, with the skin on! The skin adds a great texture. Mashed parsnips make a nice change from the same old potato dish.
What You Need For This Parsnip Recipe
2 lbs. PARSNIPS
1 lb. POTATOES
3-4 Tbsp BUTTER
3-4 Tbsp OLIVE OIL
HALF N HALF, CREAM, or MILK as desired
SALT and PEPPER to taste
½ cup PARSLEY (chopped)
and enough water or broth to
cover the simmering parsnips
How to Make a Mashed Parsnip Recipe
Wash the parsnips and potato.
I don't peel either!–the skin adds great texture and nutrition (but you can follow your own heart).
In a mid-size pot, heat butter and oil.
Chop the parsnips and potatoes into chunks roughly ½ inch in size–they don't have to be perfect, close
is close enough.
Add chopped parsnips and potato to the pot, mix with butter and oil and let cook 2-3 minutes, stirring as needed.
Add water to the pot, just enough to cover the parsnips. Sometimes I use broth instead of water–give it a go sometimes,
but it's delicious either way. Add salt and pepper to taste. Bring the pot to a simmer, cover, and let simmer about 5 minutes.
Uncover and continue simmering until the liquid is reduced and parsnips are soft and break apart.
Add a little milk, cream, or half n half. This will make the dish super creamy; add to taste, but don't add so much that the dish becomes soupy.
Stir over heat a minute or two until the dish reaches desired consistency; you can use a hand blender to puree the mix or leave it chunky
like a home-style mashed potato dish…it's great both ways.
Give this Mashed Parsnip recipe a go and let me know what you think, and bon appétit!
And for another delicious parsnip dish, try this Parsnip Curry Soup Recipe.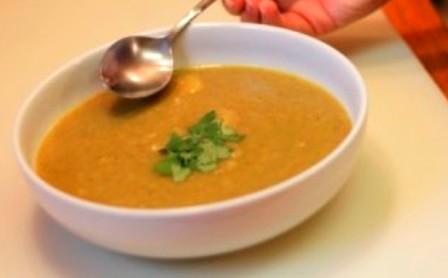 click on soup pic to watch recipe video.
And if you liked this parsnip recipe, click on some of the buttons below to share the recipe with your friends and family–I appreciate it!
–Chef Buck

Print Recipe