Try this great Nachos Supreme Recipe. It's a super grande-sized platter of nacho heaven.
We use ground beef for this nachos recipe, but if you skip the meat and just use beans–it'll still be pretty damn tasty. The key to great nachos recipe is a great nacho filling, so spice up your bean and beef mixture just right
and build your nacho castle on a tasty foundation.
What You Need to Make The Best Nachos Grande
1 lb. GROUND BEEF
1 ONION chopped
15oz can KIDNEY BEANS
16oz can LOW FAT REFRIED BEANS
CORN TORTILLA CHIPS (thick)
2 ROMA TOMATOES diced
½ cup JALAPENOS sliced and pickled
¼ cup BLACK OLIVES sliced
8-10oz CHEESE (shredded)
2-3 GREEN ONIONS chopped
¼ cup CILANTRO chopped
1 Tbsp BROWN SUGAR
1-2 Tbsp CUMIN
2-3 Tbsp CHILI POWDER
SALT and PEPPER to taste
serve with sour cream, salsa, guacamole
How to Make Nachos Like a Fancy Restaurant
In a large skillet on medium heat, add ground beef and begin browning meat.
Add chopped onion and continue browning.
Add some salt, cumin, chili powder, and black pepper to begin seasoning as the ground beef browns.
Once the meat is browned, drain the excess grease.
Add the kidney and refried beans and stir into the ground beef.
Add ¼ can water. Stir ingredients until well mixed.
Add brown sugar and more cumin and chili powder. Stir and simmer 5 minutes.
On a large baking sheet (pizza pan works great!), spread out corn tortilla chips–thicker, sturdier chips work best.
Spoon and sprinkle the ground beef mixture over the chips.
Top nachos with diced tomato, sliced jalapenos, black olives, and the chopped bottoms of the green onions.
Sprinkle the top with cheese.
Slide the baking sheet into the oven (pre-heated at 400 degrees F) and let cook approx. 15 minutes
or until the cheese is melted and the nachos heated through.
Remove from the oven and top with chopped green onion tops and cilantro.
Serve with sour cream, salsa, or guacamole and eat 'em while they're hot.
World's Best Nachos Recipe?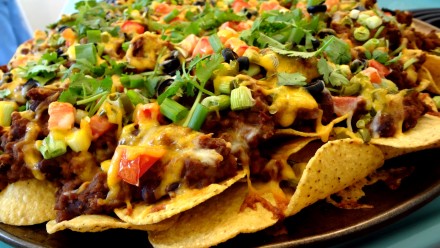 This is a GREAT Mexican dish. Definitely give it a try, you'll love it. If you enjoyed the video and recipe, please use the buttons below to share this nachos recipe with your friends. Thanks!
And for more bean fun, try Spicy BBQ Beans!