Cha Lua, or Vietnamese ham, is a staple of the Vietnamese diet and often found on the table during Tét–the celebration of the New Year.
During a recent trip down to Little Saigon (on a bánh mi run), we randomly picked up a cha lua and brought it home to give it a try. It was pretty bland right out of the banana leaves, with a rubbery consistency–but these characteristics make it a pretty versatile ingredient in many dishes–much the same as tofu, but a meat version. I ended up slicing and marinating the ham in chili and soy sauce with curry and garlic powder and frying up the slices to make an awesome bánh mi burger–which was delicious; I will definitely be making again in the near future.
Take a look at the exceptionally delicious Bánh Mì Hamburger made with cha lua.
Take a look at a traditional Bánh Mì Sandwich.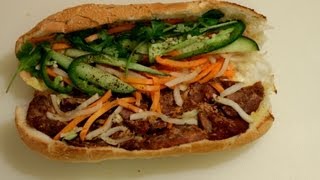 Print Recipe