This zucchini noodles and marinara sauce recipe is super simple to cook. The marinara sauce will pair great with any pasta, even a gluten free faux zucchini pasta, which is really just raw zucchini cut into noodles, but your taste buds will trick your brain into believing otherwise. Thin sliced ribbons of zucchini will act just like egg noodles, except when it comes to racking up the calories.
What You Need To Make Zucchini Noodles with Marinara Sauce
2-3 ZUCCHINI
1 lb ground SAUSAGE
1 ONION
crazy amount of GARLIC
½ GREEN BELL PEPPER
1 15 oz can DICED TOMATO
1 15 oz can TOMATO SAUCE
2-3 tsp ITALIAN SEASONING
RED PEPPER FLAKES (to taste)
½ up PARSLEY (chopped, optional)
SALT and PEPPER (to taste)
OIL for sauteing
How To Make Marinara Sauce with Zucchini Noodles
In a large skillet, heat oil on medium heat.
When pan is hot, add sausage. Sometimes I'll shape sausage into meatballs before adding to the skillet and other times I'll just divide the sausage once it's in the pan; whatever works for you is the right way.
Brown the sausage for a few minutes and then add the onion, garlic, and peppers.
Continue sauteing for 3-4 minutes.
Add herbs and salt and pepper to taste.
Add canned tomato and about ½ can of water.
Mix well and bring the skillet up to a bubble.
Reduce to a low simmer and cook 20-30 minutes. Add water as desired.
While sauce simmers, wash and peel 2-3 zucchini into thin noodles. I find a simple vegetable peeler to be the easiest method for slicing zucchini into thin, egg noodle like strips.
After sauce simmers, adjust seasoning as desired and stir in the chopped parsley. The parsley is optional, but adds a great color to the sauce, especially if you're serving the marinara sauce over traditional noodles.
Remove the skillet from the heat and stir sliced zucchini noodles into the marinara sauce.
The thin zucchini will readily heat through in the hot marinara sauce and no more cooking is required.
Serve immediately (and top with Parmesan cheese if you like!)
Give this very tasty marinara sauce with zucchini noodles recipe a try and let me know what you think, and bon appétit!
For another great noodle dish, check out this Gluten Free Tofu Lasagna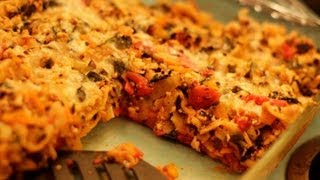 Thanks for checking out the recipes. If you like what you see, share it with your friends and family on social media, I appreciate it!
–Chef Buck

Print Recipe