Watermelon Salad is simple to throw together and a tasty way to save a crappy melon. CG loves watermelon, but once in a while she brings home a dud that just doesn't make the cut; so what does one do with an unsweet, flavorless melon? Turn it into a savory salad dish!
Watermelon Salad Recipe Ingredients:
6 cups crappy, unsweet, seedless WATERMELON
1-2 Tbsp fresh MINT (chopped)
¼ cup RED ONION (chopped)
¼ cup FETA CHEESE crumbles
½ cup toasted ALMOND SLIVERS
dressing:
¼ cup BALSAMIC VINEGAR
2 Tbsp OLIVE OIL
1 Tbsp DIJON MUSTARD
1 Tbsp MAPLE SYRUP (or substitute honey)
1 clove GARLIC (minced)
SALT and PEPPER to taste
Watermelon Salad Directions:
This salad works best with a seedless melon–'cause it's a salad–and no one wants to dig seeds out of a salad.
Wash your melon and cut away the rind. Slice the red flesh into hearty, but mouth-sized pieces. If it's sweet–then you're set! Chow down, because that's what a melon is for! –but if it's not sweet, if it's a flavorless lump that sits in your mouth like play-doh, then don't despair…it's salad time.
First thing, make the dressing.
In a small bowl, combine the balsamic vinegar, olive oil, dijon mustard, maple syrup (or substitue honey), garlic, salt, and pepper. Mix together and set aside.
In a larger bowl combine cut watermelon pieces, mint, red onion, feta cheese, and almond slivers. I've suggested some ingredient measurements–but that's just a loose guildeline, man. It's a salad…follow your heart (and taste buds).
Add salad dressing to taste and toss.
Boom.
That's it, dude.
Your crappy melon has been transformed into a delicious salad.
Give this Watermelon Salad recipe a try and let me know what you think, and bon appétit!
And for another tasty salad recipe, try this Black-eyed Pea Salad Recipe.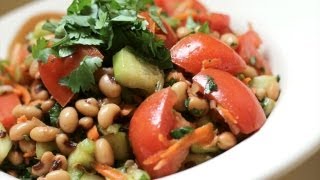 Print Recipe