White bean dip is super versatile, and this easy dip recipe can be used in a variety of dishes. Bean dip makes a handy spread for a crostini or sandwich, a healthy dip for chips or vegetables, or as a bean puree to serve as a dinner side for meat, fish, or vegetarian meals.
Bean Dip Recipe Ingredients
2 15oz cans of WHITE BEANS (rinsed and drained)
16 oz MUSHROOMS (chopped)
5-10 cloves GARLIC (chopped)
½ cup ROMANO CHEESE (I like to use freshly grated Romano, Parmesan, or Asiago cheeses)
1 medium to large size LEMON, juice and zest
½ tsp RED PEPPER FLAKES (or use fresh peppers)
3-4 Tbsp WORCESTERSHIRE SAUCE
SALT and PEPPER to taste
2-3 Tbsp of dark, rich OLIVE OIL
Garnish dip with tomato, olives, capers, fresh herbs, etc.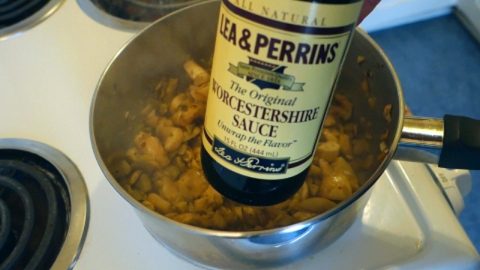 How To Make a Bean Dip Recipe
I like to use canned beans.
You can use your favorite beans, or a mixture of bean types.
I prefer white beans for this recipe, like Navy or Cannellini.
Heat oil in a pot on medium heat for sauteing.
Add in the chopped garlic and red pepper flakes; stir the garlic for a few minutes until it begins to color.
Add in a bit of black pepper, and the chopped mushrooms, and continue sauteing.
Add the Worcestershire sauce.
Continue cooking for 3 or 4 minutes; the mushrooms will cook down quite quickly.
Add in the beans and maybe ½ cup of water or broth. Be conservative when adding liquid; the finished bean dip will be best thicker, rather than thinner.
Raise the heat to medium high, cover, and simmer beans for about 5 minutes.
Uncover, reduce the heat, and continue simmering until the liquid has cooked down and the bean mix thickens.
Turn off the burner.
Stir in the cheese until it melts into the beans. Use freshly grated cheese for best results.
Add the zest and juice of one medium to large lemon, and 2-3 Tbsp of dark olive oil.
Mix into the beans and cheese.
Transfer to a blender or food processor and blend until the bean dip is smooth,
or use a hand mixer and blend dip in the cooking pot.
Give it a taste test and adjust seasoning as needed.
Set dip aside to cool a bit.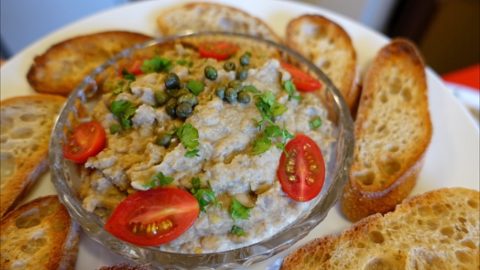 This bean dip can be served warm or cold, although it's especially tasty warm.
Use it as a dip for chips or sliced veggies; it pairs particularly well with thick tortilla chips.
Use this bean dip as a sandwich spread instead of mayonnaise, or as a crostini topping.
White bean dip will pair nicely as a puree for fish or meat entrees.
Great as a party or dinner appetizer or just as a movie watching snack.
Give this easy bean dip recipe a try and let me know what you think, and bon appétit!
And for another creamy, beany option, check out this Healthy Hummus Recipe.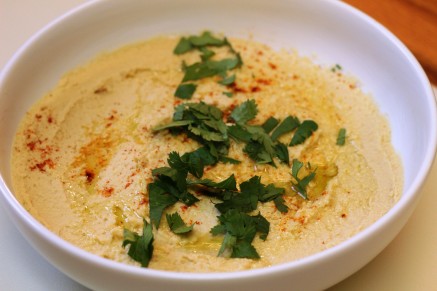 Thanks for checking out the recipes and videos. If you like the recipe, click a button or two and share it with your friends and family on social media, I appreciate it!
–Chef Buck