Try a tasty Pad Thai recipe with a spaghetti squash twist. Spaghetti squash is a lowfat low carb ingredient with a terrific texture and a mild flavor that allows it to work well in a variety of recipes, including this easy Pad Thai Recipe. A few simple ingredients are all you need to cook this healthy faux noodle vegetarian recipe.
What You Need to Make Pad Thai Recipe w/ Spaghetti Squash
SPAGHETTI SQUASH
4-6 cloves GARLIC finely chopped
2-3 GREEN ONIONS chopped, bottoms separated from tops
chopped RED BELL PEPPER
2 Tbsp OLIVE OIL
1 Tbsp SEASAME OIL
1-2 Tbsp RICE VINEGAR
1- 2 Tbsp SOY SAUCE
1-2 Tbsp PEANUT BUTTER
chopped PEANUTS
1 or 2 EGGS
BEAN SPROUTS (very optional)
chopped CILANTRO (optional)
1 tsp CHILI PEPPER
Salt and PEPPER to taste
The measurements above are just loose suggestions, and really need to be adjusted to your own tastes. The size of the spaghetti squash and how much squash noodles you dig out will determine how much of the other ingredients you need; they are simple and fresh ingredients, so there really is no wrong way to make this dish.
How to Make Spaghetti Squash Make Pad Thai
When buying a spaghetti squash, choose one that seems heavy for its size.
carefully slice the squash into halves. Cut the squash across instead of lengthwise, this will make for longer "noodles".
Place cut sides down in shallow water in a roasting pan.
Bake for about 30-45 minutes at 350 degrees Fahrenheit. You can check on the squash after 30 minutes; the cooking time will vary according to the size of the squash. It's important not to overcook the squash, slightly crunchy strands of squash add great texture to a dish, and overcooking the squash will make the ingredient mushy.
Remove squash from the oven and carefully turn halves over to check for doneness –the water will be hot and steam will be trapped under the squash, so be cautious.
Allow squash to sit 5-10 minutes to cool slightly for easier handling.
Insert a fork and twist out strands of "spaghetti". Once the fork has done its job, use a spoon to scrape out the remaining squash; it's edible all the way to the rind, so don't waste any!
Heat a skillet on medium heat and add sesame and olive oil.
Add chopped green onion bottoms, chopped garlic, and chopped bell pepper and saute cook 1-2 minutes. If you like a bit of heat with your dish, add some red pepper flakes or fresh chopped hot peppers.
Add in salt and chili pepper and continue sauteing.
Stir in rice vinegar, soy sauce, and peanut butter. Add a bit of water to thin the sauce, if desired.
Cook for 1 -2 minutes and then add in the spaghetti squash and mix well with the sauce.
Make a well in the center of the squash and add in the whisked eggs. Once the eggs set, give them a stir and scramble, then mix scrambled eggs in with the rest of the dish and get it off the heat.
Top with fresh chopped cilantro and chopped peanuts and serve.
Add fresh bean sprouts, too, if you be cray.
And that's it.
This recipe makes a nice twist on a traditional pad Thai recipe. Add fish sauce if you're a hardcore pad Thai aficionado.
Give this spaghetti squash recipe a try and let me know what you think, and bon appetit!
And for more super duper spaghetti squash recipes, check out my SQUASH RECIPE PLAYLIST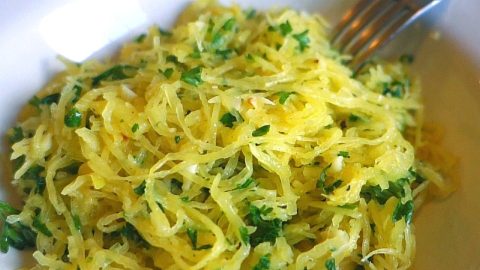 Thanks for checking this spaghetti squash pad Thai recipe out. If you liked it, then click a button or two below and share it with your friends, I appreciate it!
–Chef Buck