Cod fillets make a great baked fish recipe. This recipe is great for all types of fish, especially cod or tilapia fish fillets, which are generally good buys at the supermarket. Cod and
tilapia are both low key fish with a mild flavor, so baking them in the oven with a homemade tartar sauce and panko breadcrumb topping adds a nice twist. This baked fish recipe cooks up quick and is
perfect for family meals.
What You Need for this Baked Fish Recipe
2 COD FILLETS (about 8oz each)
½ ONION (sliced)
½ cup PANKO BREADCRUMBS
1 Tbsp melted BUTTER
½ tsp PAPRIKA (optional)
SALT and PEPPER to taste
chopped fresh DILL
spray cooking OIL for pan and onions
sauce:
½ cup MAYONNAISE
some chopped fresh DILL
1-2 Tbsp chopped PICKLES or PICKLE RELISH
spoonful or two of the pickling solution or
1 Tbsp fresh LEMON JUICE (add zest for extra lemony-ness)
(also…add a sqeeze of dijon mustard if desired)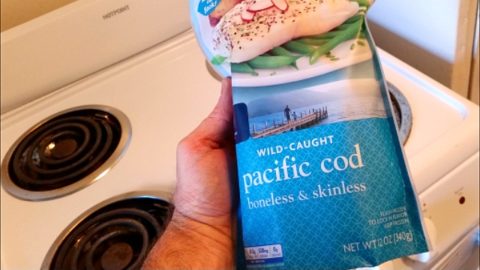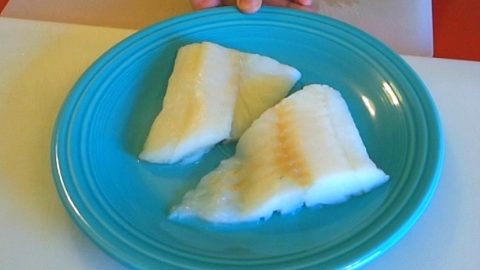 How to Make a Baked Fish Recipe
Pat the cod fillets dry and lightly season with salt and pepper
Heat a skillet on the stove top and melt butter.
Turn burner off, add breadcrumbs to the skillet and stir until butter is absorbed.
Add salt, pepper, any other spices desired, ½ of the chopped dill, and mix well.
To make the sauce, combine the remaining dill, mayonnaise, chopped pickles, and pickling solution or lemon juice, in a bowl, and stir until smooth.
Spray a baking pan or aluminium foil with cooking spray.
Lay onion slices in pan and place fillets over top the onions.
Evenly coat the tops of the fish with the tartar sauce mixture.
Sprinkle and press the seasoned panko crumbs into the sauce.
Place pan in oven and bake at 400 degrees F for 20-25 minutes until the crumb topping has turned a nice, golden brown.
Serve with rice and veggies.
And enjoy!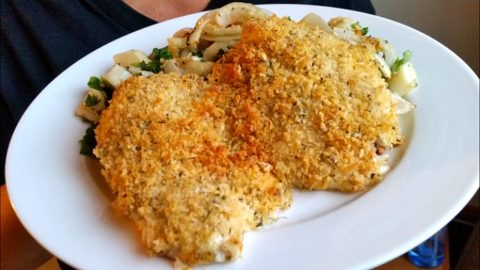 And for another easy fish recipe, here's a quick way to cook up a Stovetop Salmon Fillet
Thanks for checking this easy baked fish recipe out. If you liked it, then click a button of two below and share it with your friends. I appreciate it, thanks!
–Chef Buck