Pajeon is a Korean-style green onion pancake recipe. It is a savory, delicious pancake that can be prepared quick and easy. I'm using rice flour in this video, so it's actually a gluten-free pancake recipe, but using all-purpose wheat flour is fine. You can use either chives or scallions for this recipe (or both).

What You Need To Make Pajeon
1 bunch GREEN ONIONS
1 EGG
¼ cup RED BELL PEPPER
HOT PEPPER (optional)
½ cup FLOUR
½ cup WATER
2-3 Tbsp OIL for cooking
SALT and PEPPER (to taste)
sauce:
¼ cup RICE VINEGAR
¼ cup SOY SAUCE
CHILI-GARLIC SAUCE (to taste, optional)
How to Make a Pajeon Green Onion Pancake
Combine flour and cold water and mix well, the batter should be thin.
Chop slender green onions into approx. 1 inch pieces and add into batter (thicker onions should be sliced lengthwise first).
Add red bell pepper and any hot pepper (optional) to batter and combine all until ingredients are well coated.
Heat oil in a non-stick skillet on medium high. Adjust temperature as needed through out cooking, but make sure the oil is hot before adding the batter.
Add batter to hot skillet and shape into a pancake shape. Make 1 big pancake, or 2 smaller pancakes; this recipe can serve 1 to 2 people, although I generally eat it all, since it's quick and easy to prepare, and I often make it when I'm just cooking for myself.
Add salt and pepper to taste (remember that the sauce will have have soy sauce)
After 3 minutes, pour a beaten egg over the pancake top.
Cook until the cake is golden brown on bottom, about 4-6 minutes.
Turn the cake (or flip it–but with confidence!) and cook the eggy side for about 2 more minutes.
And that's it! Serve hot with a dipping sauce.
Dipping Sauce
Combine equal parts rice vinegar and soy sauce and mix well. Adding a little chili-garlic sauce is a nice touch, and and will provide a nice bite. For a sweeter sauce, add a little hoisin or plum sauce, or just 1-2 tsp sugar.
Give this pajeon green onion pancake recipe a try and let me know what you think, and bon appétit.
And for a Korean-style seafood pancake, check out this Haemul Pajeon Recipe.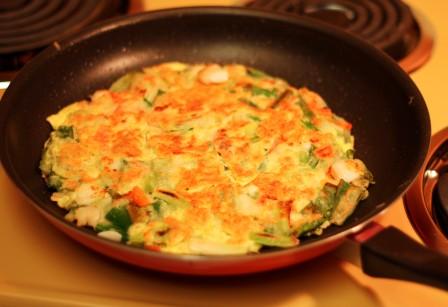 Thanks for checking out the video and recipe. If you liked it, click some of the social media links below and share it with your friends. I appreciate it!
–Chef Buck