Fresh rainbow or swiss chard greens are similar to beet greens, nutritious and very tasty prepared in this healthy chard recipe. Sweet potatoes are high in fiber and antioxidants and a healthier choice for your blood sugar levels than white potatoes.
Healthy Sweet Potato Chard Recipe:
2 large SWEET POTATOES
1 15 oz can CHICKPEAS, drained (or 1½ cups cooked)
4 cups CHARD (w/ spinach mixed, if desired)
1 15 oz can BROTH
1 15 oz can DICED TOMATOES
1 large ONION (chopped)
6 GARLIC cloves (chopped fine)
1 inch fresh GINGER (minced)
2 Tbsp OLIVE OIL
1 tsp PAPRIKA
1 tsp ground CUMIN
1 Tbsp ground CORIANDER
1 tsp ground TURMERIC
1/2 tsp ground CINNAMON
1/2 tsp SALT
1 tsp ground BLACK PEPPER
— Optional Accompaniments —
COUSCOUS, QUINOA
garnish of CUCUMBER, fresh CILANTRO and LEMON ZEST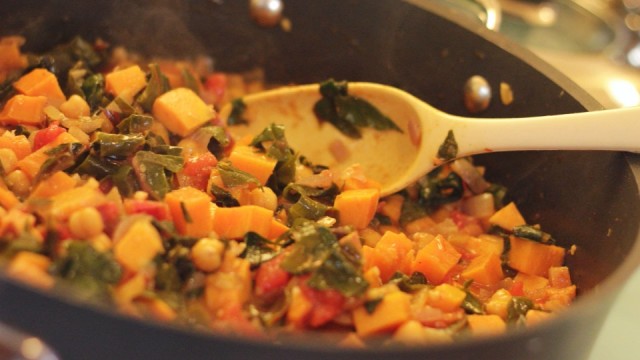 How to make a Healthy Chard and Sweet Potato Dish
Heat olive oil in a large skillet or pot. Saute the onion for a few minutes minutes then add garlic, ginger, and stalk (if using chard), and saute a few minutes more until onions soften.
Stir in paprika, cumin, coriander, turmeric, cinnamon, salt, and black pepper.
Add diced tomatoes and broth.
Bring to a boil, then add sweet potato and chickpeas. Simmer 25 to 30 minutes, until the potatoes are tender. Stir in roughly chopped chard leaves for last 10 minutes (if using spinach, add leaves last 2 minutes).
Serve over couscous, quinoa, or all on its lonesome with a garnish of cucumber, chopped cilantro, and lemon zest.
It's especially good over quinoa, and the protein in the quinoa makes this recipe a great main dish for a vegetarian meal.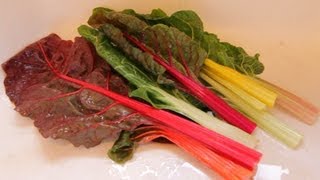 Health benefits Of Chard
Chard is a source of vitamin C, A, and K, potassium, magnesium, fiber and iron.
A single serving contains more than 300% of your daily vitamin K needs.
Swiss chard is high in antioxidants.
It is low in calories.
This leafy green belongs to the same family as beets, chard, spinach, and quinoa.
helps regulate the blood sugar levels in our body.
And if you want to try another green, what about Beet Greens?