This stuffed mushrooms recipe makes a great appetizer and party dish; it's pretty easy to make a bunch of these stuffed mushrooms at one time. Stuffed mushrooms are often filled with freshly grated Parmesan, garlic, and herbs, but it's a very versatile recipe…so experiment with your favorite flavors; I personally like a blue cheese and hot sauce combo thrown into the filling, and chopped nuts and toasted breadcrumbs can add a much needed crunchiness.
What You Need for This Stuffed Mushrooms Recipe
12-15 MUSHROOMS
½ cup PANKO BREADCRUMBS
1-2 TBSP BUTTER
some OLIVE OIL
filling mixture like…
½ cup PARMESAN CHEESE
½ cup BLUE CHEESE
4-6 cloves GARLIC (finely chopped)
½ cup PARSLEY (chopped)
½ cup CASHEWS (chopped)
some HOT SAUCE
SALT and PEPPER (to taste)
…but fillings are optional
How To Make Stuffed Mushrooms
Buy whole mushrooms that are uniform in size; I buy mushrooms that are not already pre-packaged, so I can select the best.
Choose mushrooms that are firm and dry and store in the fridge in a paper sack until you are ready to use them.
Before using, clean mushrooms with a damp towel.
Remove the stems and use a knife or spoon to open the mushroom center and create more room for the stuffing.
Take your time preparing the mushroom caps to avoid splitting them.
I often set aside some of the stems to use in other recipes, while reserving some to chop and mix with the stuffing.
Coat the mushroom caps lightly with olive oil and set aside.
In a bowl, combine some of the chopped stems and whatever fillings you desire.
I often use an egg, minced garlic, freshly grated Parmesan, and fresh chopped parsley with my filling, butthe variations are endless.
Blue cheese is fantastic in stuffed mushrooms.
For added crunchiness, nuts are a great idea. I find that chopped cashews work very well.
I'll often add ingredients to the stuffing mix as I stuff the mushrooms, which makes for a nice variety of flavors.
Spoon the filling into the mushroom cap.
In a skillet, melt butter and add panko breadcrumbs. The breadcrumbs will soak up the butter and flavor.
Top stuffed mushrooms with panko breadcrumbs and place on a rack over a baking sheet.
Place stuffed mushrooms in an oven pre-heated to 375 degrees F. and bake for approximately 30 minutes or until
the breadcrumb topping is nicely toasted.
Serve warm.
Tips for Best Stuffed Mushrooms
Bake the mushrooms on a rack! This will dry them out more and make them less mushy!
Breadcrumb topping and nuts are optional, but they both add nice texture and crunch.
Set aside some mushroom stems for another recipe and make room for more non-mushroomy filling.
Start with a simple filling and then add other ingredients as you stuff the mushrooms for more variety.
Give this stuffed mushrooms recipe a try, and let me know what you think, and bon appétit!
For another tasty party and appetizer dish, check out this Jalapeno Poppers Recipe.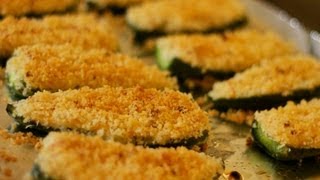 Thanks a lot for checking out the videos and recipes. If you like what you see, click a few buttons below and share the recipe with your friends and family, I appreciate it!
–Chef Buck

Print Recipe