Can you get a fancy-pants dinner out of a can of cheap pink salmon? Sure you can! This salmon cake recipe is easy to make and ready any time you like by using convenient canned salmon from the cupboard. Mmmmmm, I likes me some salmon cakes!
Salmon Cake Recipe Ingredients:
Patties:
1 can PINK SALMON (or red salmon, if you're feeling luxurious)
1 large EGG
1/4 cup ONION (diced)
1/4 cup RED PEPPER (diced)
BLACK PEPPER, to taste
CREOLE PEPPER, to taste
GARLIC POWDER, to taste
Sauce (optional):
CREOLE MUSTARD (or any kind of fancy-pants mustard)
YOGURT (plain Greek-style)
DILL WEED
LEMON JUICE (optional)
For the cakes, mix ingredients and shape into cakes. Fry in oil –I usually use extra light olive oil, but any will do. Cook on medium heat 4-5 minutes each side until golden brown).  Allow the cakes to cook well on one side before you turn, this will keep them from falling apart.
If you are making the sauce, mix ingredients to taste. I tend to go a little 'mustardy'. Also, you might try adding a little lemon juice to the sauce.
Give this salmon cake recipe a try and let me know what you think and bon appetit.
And for another tasty, nutrition-packed fish recipe, try Mackerel Stew.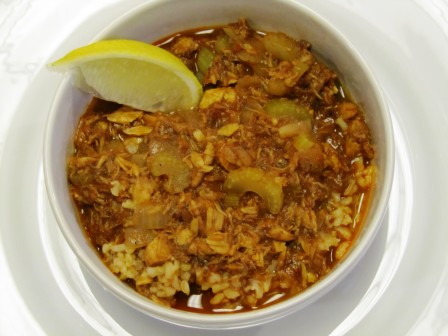 Print Recipe