Quinoa for dessert? If you like rice pudding, then give this quinoa recipe version a try; it's super sweet and easy to make and yet another great way to include quinoa in your diet. Quinoa cooks up just like rice: one part quinoa to two parts water, bring to a boil, reduce to a simmer, and then cook covered until water is absorbed. Quinoa acts like a grain, but it's actually a seed–and a complete protein–so it's a great addition to your diet if you're trying to cut down on eating meats and rice. I like to make this dessert dish with cardamon, but it works well with ground nutmeg, too. Don't skimp on the minced orange peel–I put 1 tsp in the written recipe, but I use a heaping teaspoon. And I always toast up coconut flakes and almond slices for a crunchy topping; of course you don't have to use both, but it's delicious–so definitely toast up one or the other–a crunchy topping makes rice pudding a treat (and quinoa pudding, too).
Ingredients for Quinoa Rice Pudding
1 cup QUINOA
1 CINNAMON STICK
14oz can COCONUT MILK
2 tsp minced GINGER
¼ cup BROWN SUGAR
½ tsp CARDAMOM (or sub nutmeg)
1/3 cup RAISINS
1 tsp minced ORANGE PEEL
½ cup toasted COCONUT FLAKES and/or toasted ALMOND SLICES

How to Make Rice Pudding with Quinoa
In a saucepan, combine 1 cup quinoa with 2 cups of water and a cinnamon stick. Bring pot to a boil, then reduce heat to a simmer. Cover pot and let cook 12-15 minutes until the water is absorbed. Fluff and remove cinnamon stick and set aside. In a small saucepan, combine 14oz can coconut milk, minced ginger, and brown sugar. Slowly bring contents to a bubble, then reduce heat and continue stirring 5 minutes. Remove from eat. Add raisins, orange peel, and cardamom to quinoa (can sub nutmeg for cardamom). Mix well and then add coconut milk mixture.  Stir, then cover and set aside to cool about 20-30 minutes.  Serve warm or chill and serve cold. When serving, garnish with toasted almond slices or coconut (or both).  The crunchiness of the toasted topping adds a great texture and I highly recommend giving it a try.  The next time you're in the mood for rice pudding, make quinoa pudding instead.  Give this quinoa recipe a go and let me know what you think!
Enjoy!

Click here to try another quinoa dish:
Spanish-Style Quinoa Recipe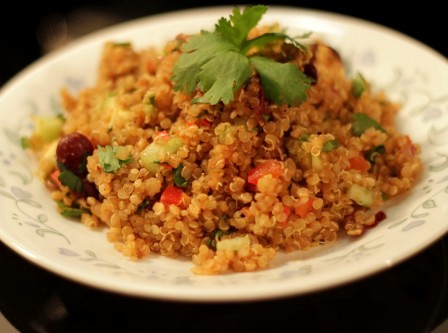 Thanks for checking out the recipe. If you liked it, then click a button below and share it with friends. Thanks…I appreciate it!
–Chef Buck

Print Recipe