Try this spicy Spanish-style quinoa recipe; it's vegetarian heaven. Quinoa is a versatile ingredient and an excellent source of protein. Quinoa is a grain-like superfood and a great substitute for rice, and just as easy to prepare. I use it often as an alternative to rice–even in rice pudding. Give this quinoa recipe a try; I'm sure you'll be eating a whole lot less rice in the future, and not missing it at all.
What You Need For This Quinoa Recipe
1 Tbsp OLIVE OIL
1 ½ cups QUINOA
 ½ cup RED ONION (minced, separated)
3-5 cloves GARLIC (finely chopped)
 ½ large RED BELL PEPPER (minced, separated)
1 14 oz can DICED TOMATO (reserve juice)
1 15 oz can KIDNEY BEANS (drained, rinsed)
1 tsp CUMIN powder
1 tsp CHILI powder
2 cups WATER, including drained tomato liquid
½ cup CILANTRO (fresh, chopped)
1 small CUCUMBER (diced, peeled if waxed)
1 AVOCADO (seeded, peeled, diced)
1/3 cup LIME JUICE (freshly squeezed)
SALT and PEPPER to taste
How to Make Spanish Quinoa
Open the canned tomato and drain the tomato liquid into a measuring cup. Add enough water to equal 2 cups.
Heat oil on medium high. Saute garlic, 2/3 of the onion and 1/3 of the red pepper for 2-3 minutes. [the rest of the onion and red pepper will be added raw at the end.]
Add quinoa.
Stir in tomatoes with green chilies, kidney beans, cumin and chili powder and water/tomato juice mixture.  Bring the pot to a boil. Reduce to medium low and cook approx. 15 minutes. The liquid will be absorbed.
Remove from the heat and let sit for about 10 minutes and then fluff with a fork. Allow quinoa to cool some, you want it to be warm, not piping hot when you add the rest of the ingredients.
After quinoa has cooled some, add in the remaining onion and pepper pieces, and the chopped cilantro.  Mix. Then add cucumber and avocado and lime juice (or sub lemon juice). Toss gently.
And then serve.
Give this spicy Spanish quinoa recipe a try and let me know what you think, and…
Bon appétit!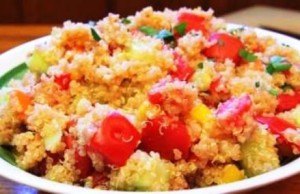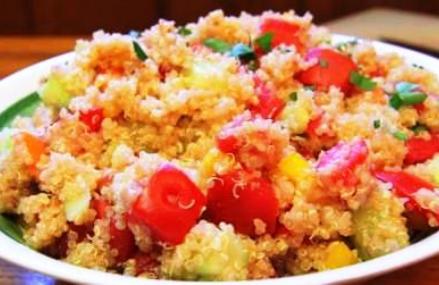 Thanks for watching and subscribing –And hit those buttons below to share this recipe. I appreciate it!

Print Recipe