You're gonna love this pork tenderloin recipe. As the name suggests, pork tenderloin is a very tender cut of meat. It's super flavorful, moist, and delicious, and easy to prepare. Leftover tenderloin is perfect on a sandwich, so cook up enough to leave leftovers…you'll be glad you did. I'm cooking this pork tenderloin with onions and beans and it's a great dish –definitely give it a try.
Pork Tenderloin Recipe Ingredients:
2½ lbs PORK TENDERLOIN
1½ Lg ONION
15oz can PINTO BEANS
5-7 cloves GARLIC
fresh HOT PEPPERS to taste (or use red pepper flakes, or nothing…it's all optional, baby!)
OLIVE OIL (as you like…I oil the meat, the skillet, and then throw a little olive oil on the onions)
SEASONING for meat
(1 tsp salt, ½ tsp black pepper, 1 tsp cumin, 1 tsp chili powder,
1 tsp Italian seasonings, etc…experiment, or use your own favorites)
½ cup dry WHITE WINE (optional)
½ cup CHICKEN BROTH
Pork Tenderloin Recipe directions:
Trim the pork tenderloin of the sinewy silver skin.
Coat the pork in olive oil and seasonings.
I'm using a rub of chili powder, cumin, salt, pepper, and Italian seasonings…but use whatever flavors you like, or just keep it simple with basic salt and pepper–there's no wrong way to do it; as long as you don't overcook the pork, it'll be awesome!
Pre-heat your oven to 425 F.
Cooking the tenderloin at a high temperature for a short time will keep it from drying out.
While the oven heats, sear the tenderloin on the stove top.
In a heavy, oven safe skillet, heat a little olive oil on medium high heat.
After the skillet and oil are hot, add the tenderloin–it should sizzle and cook right away.
Sear for 3 minutes and then turn and sear the other side.
Add thick sliced onion to the skillet. Do this after the tenderloin has been turned.
Add a little oil and seasonings to the onion.
After 3 minutes, remove the skillet from the stovetop and place in the oven at 425 F. (be sure to use an oven-safe skillet!)
Cook for approx. 20 minutes.
If using a meat thermometer, cook until the internal temperature of the pork is 145 F.
Remove the skillet from the oven and return to the stove top.
Remove the porkloin from the skillet and set aside 10 minutes to rest. It is very important to rest the meat before slicing. This will preserve the juiciness and flavor of the pork.
If you slice the tenderloin right away, the thin juices will run and much of the flavor and moisture will be lost!
While the pork tenderloin rests, we'll complete the onion and bean side dish.
On medium heat, continue cooking the onions in the skillet. The liquid in the pan will reduce as it cooks. Add garlic–a lot is good!–and if desired, throw in a little fresh chopped hot peppers.
Add the pinto beans
After a few minutes, if you like, add a little wine. It's optional, but adds a great flavor.
Simmer about 2 minutes and let the wine cook off.
Add chicken broth and continue simmering until the liquid cooks down.
And that's it.
By now the pork tenderloin has rested enough and is ready to slice.
Serve the tenderloin with the beans and onion side, and maybe a little steamed broccoli or salad–and boom!–you got a complete fancy-pants pork tenderloin dinner!
Give this pork tenderloin recipe a try and let me know what you think, and bon appétit!
And for another great meal idea, try this Delicious Cornish Hen Dinner.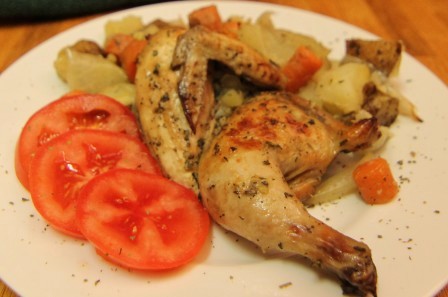 Print Recipe