Poached egg recipe with smoked salmon and spinach salad! Breakfast doesn't get much fancier than this; it'll be like a 5-star breakfast in your own home. For a special breakfast treat, give this tasty combo a try.
This poached egg recipe will be like that glorious trip to Paris you've always dreamed of taking and then never did! This fancy-pants breakfast is easy to prepare and tastes great –you'll think you're living it up with the Rockefeller's (except you'll probably have to do your own dishes).
Ingredients:
2 cups SPINACH
½ cup FENNEL BULB (sliced thin)
1 tsp ONION (minced)
1 tsp LEMON ZEST
1 Tbls LEMON JUICE
2 Tbls OLIVE OIL
SALT, to taste
PEPPER, to taste
4 EGGS
1 Tbls WHITE VINEGAR
4oz SMOKED SALMON
1 TOMATO (sliced)
And fancy-pants BREAD for toast
Combine olive oil, lemon juice, onion, zest, salt, and pepper…mix well. Add spinach and fennel and toss. Divide salmon onto two plates and top each portion with spinach salad.
To poach eggs, add a pinch of salt and 1 Tbls of vinegar to a pot of water and bring to a boil. Reduce to simmer. Break each egg into a cup and gently drop into the water…take care not to break the yolk! Poach eggs for 90 seconds and remove with a slotted spoon. Arrange eggs on the salad and serve with tomato garnish and toast.
The runny yolk tastes great on this dish! But if you're not a fan, then poach the eggs until the yolks are firm, or simply hard boil some eggs and arrange over the dish in slices.
Give this fancy-pants poached egg recipe a try and let me know what you think, and bon appetite!
And pancakes don't sound as fancy, but what about a Seafood Pancake Recipe?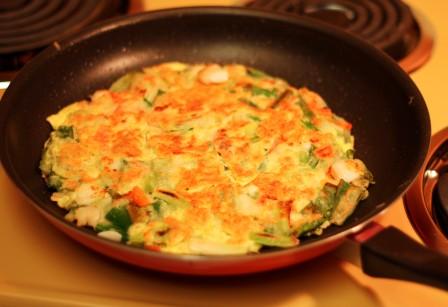 Print Recipe