Pita chips are easy to make and you can bake them up quickly using your favorite spices. You can't have hummus without pita chips! I mean, you can, but…why? Pita chips go great with all kinds of dips and are excellent with salads or just as an alternative to your run-of-the-mill potato chip.
Pita Chips Ingredients:
1 pkg. PITA BREAD
OLIVE OIL
SALT
SPICES: curry powder, garlic powder, cajun seasonings, etc. (whatever you like)
Cut pitas into triangular chip shapes. Each pita will easily yield 12 chips. Soak one side of each pita triangle in olive oil and stack pitas so the soaked side of one is stacked against the unsoaked side of the next. Press stacked chips together—this will flatten the chips and suffuse the oil throughout.
Arrange chips on a flat baking sheet. Salt to taste. Add spices—the more the better, in my opinion. I usually bake three distinct batches. Curry is probably my favorite—just salt and lots of curry on a toasted pita chip, it's delicious. Garlic is great, too. Try some Tony Chachere's seasoning (or comparable cajun seasoning) on a chip—or simply add a sprinkle of cayenne pepper with Cumin. Whatever your favorite seasonings are, give them a try.
Bake the chips 8-10 minutes in a pre-heated oven at 350 degrees Fahrenheit. Oven cooking times vary, so keep an eye on your first batch to see how long it takes to toast them the way you like—they will burn quickly if forgotten. I like mine CRISP. One side of the pita will be thinner than the other side and some triangles may need to be removed from the oven before the other chips are done. You'll figure it out.
Give this pita chips recipe a try and let me know what you think, and…
Bon appétit!
Want to make hummus right now? Check out this Classic Hummus Recipe.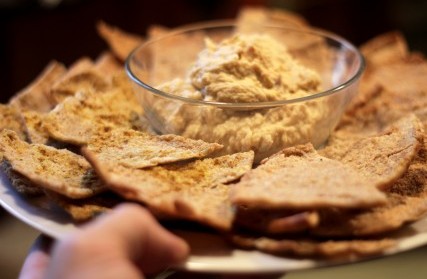 Print Recipe