This pesto recipe is crazy delicious, and makes a perfect sauce for pasta. I like my pesto pasta to have a thick sauce with lots of flavor!–a thin, watery pesto pasta is not for me; if you feel the same way, then give this pasta dish a go–and use a hearty pasta that will hold lots of pesto sauce, something like a penne or rotini pasta.
What You Need for Pesto Recipe
¾ cup PINE NUTS, toasted (or substitute almonds or walnuts)
2-3 cloves garlic
2 cups (packed) fresh BASIL leaves (sub 1 cup for SPINACH leaves)
[4oz grocery basil = approx 2 cups]
zest & juice from 1 small LEMON
½ – ¾ cup OLIVE OIL (darker the better)
½ tsp SALT and ¼ tsp PEPPER to taste
¼ tsp crushed RED PEPPER FLAKES
½ cup (to taste) freshly grated PARMESAN CHEESE (or asiago or Pecorino)
16oz PASTA (I prefer pene or rotini for this dish)
How to Make Pesto Recipe
Toast the pine nuts at 400 degrees Fahrenheit for approx 3 minutes–but watch them like a hawk!–they will toast fast and you DO NOT WANT TO OVER-TOAST OR BURN them 'cause they cost way TOO MUCH MONEY!
Place pine nuts and garlic in a food processor and pulse/chop.
Season with salt and pepper and red pepper flakes.
Into the processor, add basil (when buying basil, choose basil that has NOT flowered yet–or only a little–basil loses sweetness as the plant flowers), spinach, lemon juice and zest.
Process until the greens are shredded.
Add olive oil incrementally and process until fully incorporated and to desired smoothness and consistency.
Transfer the pesto to a serving bowl and mix in the freshly grated Parmesan cheese.
And that's it–your pesto sauce is complete! Use it however you see fit!
For pesto pasta:
In a pot, cook 16oz of pasta according to package directions.
I recommend a pasta that is thick and hearty, with lots of surface area for the pesto sauce to cling to; I lprefer a penne or rotini pasta.
When pasta is cooked to desired consistency–al dente is best, I think–reserve 1 cup of the pasta water, then drain the pasta–DO NOT RINSE!–this washes away flavor.
Immediately return drained pasta to the pot and add in the pesto. Mix with the noodles. Add some of the reserved pasta water until the sauce is as desired. Add pasta water SLOWLY! You DO NOT want to make your pesto sauce TOO THIN! Or at least I don't–I like a lot of pesto flavor with my pasta.
Top with freshly grated Parmesan cheese and serve.
Give this pesto pasta recipe a go and let me know what you think, and bon appétit!
And for a meatier pasta recipe, try this Spaghetti Carbonara Recipe.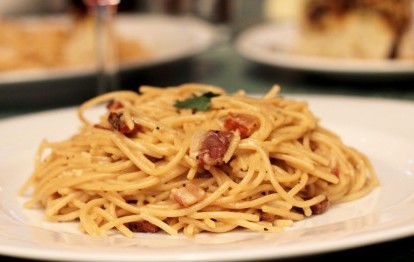 Thanks for checking the pesto recipe out. If you liked the dish, then click a button or two below and share it with friends. I appreciate it!
–Chef Buck

Print Recipe