This pear salad recipe is a classic country dish, and by country, I mean the spot where you park your double-wide trailer.
Pear Salad Ingredients:
1 Can PEAR HALVES
MAYONNAISE
CHEDDAR CHEESE (shredded)
Optional, to be fancy-pants: MARASCHINO CHERRY
Bust open a can and plate your pears (you can serve them on a bed of lettuce if you're feeling ritzy). Spoon a dollop of mayonnaise onto each pear half and then sprinkle with cheese. Voilà!
If it's a special occasion, such as a birthday, wedding, or completion of terms of parole, adding a maraschino cherry atop each pear will make a nice touch.
If your trailer is actually a house, then you might want to upgrade your pear salad.
Pear Salad Ingredients – Take 2:
LETTUCE (not iceberg–never iceberg, ever)
3 Fresh PEARS, (diced)
2 Tbsp MAYONNAISE or YOGURT
3/4 c. BLUE CHEESE (crumbled)
3/4 c. WALNUTS (chopped)
Dice pears and toss with mayonnaise then spoon onto lettuce. Sprinkle with blue cheese and walnuts. DO NOT add maraschino cherries, but raisins CAN be added, if desired.
Give these redneck dream desserts a try and let me know what you think, and bon appetite!
And if pears ain't your thing, but you stilll need something quick, take a look at this Quick Chocolate Chip Cookie Recipe.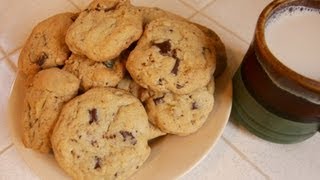 Print Recipe