Pancakes are easily made from scratch and can be transformed into a fancy pancake recipe by adding a few favorite fillings. Some of my favorite combos are cranberry / walnut, chocolate chip / pecan, and banana / walnut. Nuts are always a great addition –they makes a great bite!
Pancake Recipe Ingredients
(makes 5 good-size cakes or 8-10 sissy cakes):
1 EGG
3 Tbsp BUTTER
1¼ cup MILK
1½ cups ALL PURPOSE FLOUR
3½ tsp BAKING POWDER
1 Tbsp SUGAR
1 tsp SALT
CRANBERRIES
CHOCOLATE CHIPS
WALNUTS
PECANS
How to Make Pancakes
In a bowl, combine melted butter, milk, and egg. Stir until well blended. In another bowl, combine and mix flour, baking powder, sugar, and salt. Add the dry ingredients to the wet, or the wet ingredients to the dry (who cares? it's no big deal either way), and stir until smoothish…if there are a few lumps, it doesn't matter.
Heat a lightly oiled skillet or griddle on medium to medium high heat. Pour or ladle batter onto the skillet. Try not to make the first pancake too big, since often the first cake is the least pretty–although it wil still taste pretty good. Add pancake toppings into the batter–as much or as little as you like–a lot of folks use blueberries, but I prefer cranberries, chocolate chips, or bananas with nuts. Nuts are a great addition to a pancake–makes for a much better bite.
It will only take a minute or two for the pancake to be ready to flip. Once air begins bubbling and opening tiny holes into the top of your cake, flip. It will only take half as much time for the other side to cook. Just peek under the cake and remove it when you're happy. Serve with syrup and butter…and bacon is always a good idea, too.
Give this fancy-pants pancake recipe a try and let me know what you think, and bon appétit!
And if you enjoy this fancy pancake recipe, then try this fancy-pants Salmon and Poached Eggs Recipe.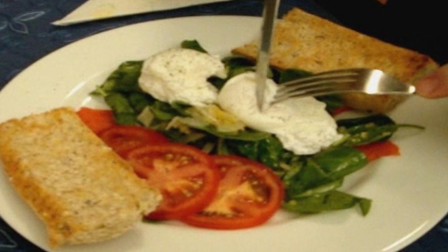 Thanks for checking out the video and recipe. If you liked it, why not share it? All the cool kids are!
Thanks.
–Chef Buck

Print Recipe