This tomato okra recipe features whole pod okra in a tomato gravy. Sound southern enough for you?
Tomato Okra Recipe Ingredients:
1 lb OKRA (whole pods)
1 medium ONION (chopped)
1 cup TOMATO PUREE (or 2 chopped tomatoes)
2 Tbsp OLIVE OIL
1 tsp MUSTARD SEEDS
1 Tbsp CORIANDER POWDER
1 tsp CHILI POWDER
1 Tbsp white wine VINEGAR
SALT and PEPPER (to taste)
¼ cup WATER
Heat olive oil on medium heat and add onions. Cook for 1 minute and add mustard seeds. Add coriander and chili powder and continue sautéing onions for another minute. Stir in the tomato puree. Add salt. I like using puree because it's thick and sweet and acts like a gravy. You can substitute fresh chopped tomato instead if you prefer a thinner consistency. Add fresh okra. 
Fresh! Buy okra that's bright green and firm, not soft and bendy. Small okra pods are best—1" to 2". Okra won't stay pretty in the fridge for too long, so use soon after buying (1-2 days). Trim the stems, but not too much—you don't want to cut into the pod and release the watery goo. I say goo, but not in a bad way. Okra is a dry climate vegetable and stores a lot of moisture in its pod—it's a kinda gooey moisture—that's why cut okra is often used in soups and gumbos as a thickener.
Mix the okra into the tomato gravy. Add vinegar and continue sautéing another minute. The tomato and vinegar will cut the "slickness" of the okra. Add ¼ water, cover pan and reduce heat to low. Let simmer for 5 minutes.
And that's it. Add pepper and adjust salt as needed and serve—I find it's a perfect side dish for blackened fish.
Give this tomato okra recipe a try and let me know what you think, and…
Bon appétit!
You know what goes great with this okra recipe? This Blackened Fish Recipe.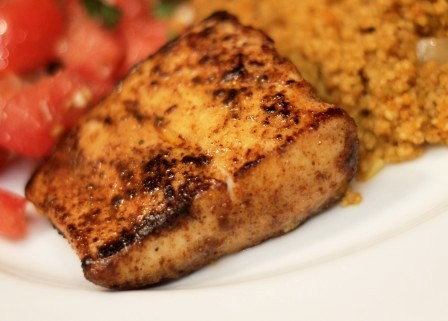 Print Recipe