This is a tasty linguine with clam sauce dish for those times when you feel like re-watching The Sopranos.
Linguine with White Clam Sauce Ingredients:
1 pkg LINGUINE (about 13oz)
3 cans chopped CLAMS (approx. 20 oz., drain and reserve liquid)
½ stick BUTTER
½ cup OLIVE OIL
½ cup ONIONS (chopped)
4-6 cloves GARLIC (finely chopped)
1 cup WHITE WINE (dry, not sweet)
½ qt CHICKEN BROTH
RED PEPPER FLAKES to taste (2-3 tsp is what I use)
1 tsp dried OREGANO
1 tsp BLACK PEPPER
1 Tbsp PARSLEY (fresh chopped or dried)
¾ to 1 cup PARMESAN CHEESE (grated)
Open canned clams and separate liquid from clams. Heat a large skillet on medium and begin melting butter, add olive oil. When all is melted, add onion and garlic. Cook until garlic begins to color, mind cooking temperature to avoid burning (lower temp if needed).
Add white wine and simmer 5-10 minutes to reduce. Add chicken broth, clam juice reserved from cans (an additional 8oz bottle of clam juice can also be added, if extra clamminess is desired). Add red pepper flakes, oregano, parsley, and black pepper. Reduce heat to low and simmer for 20 minutes.
While sauce is simmering, prepare linguine according to package directions.
After sauce has cooked for 20 minutes, stir in clams and turn off heat. Add linguine noodles to sauce (don't drain and rinse noodles, just take them right from the pot and mix them with the sauce). Stir in the grated parmesan cheese and serve (if desired, top with fresh parsley to add a little color).
And toast up some garlic bread, too.
Give this linguine with clam sauce recipe a try and let me know what you think, and…
Bon appétit!
Another easy seafood recipe is Canned Mackerel Stew –and it's cheap, too.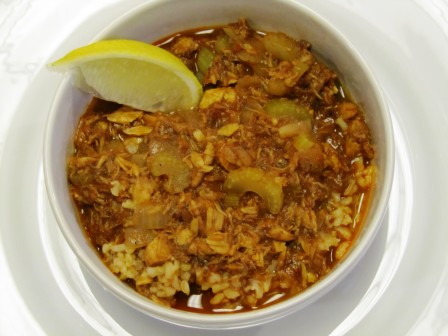 Print Recipe