Kung Pao Chicken tastes great and cooks up super quick, so next time you feel like ordering Chinese take-out, try cooking this Chinese favorite at home instead.
Kung Pao Chicken Ingredients:
1 lbs CHICKEN (boneless/skinless)
1 med-sized ZUCCHINI
1 stalk CELERY
½ RED BELL PEPPER
4-5 GREEN ONIONS
3-4 GARLIC minced
2 tsp GINGER minced
RED PEPPER FLAKES (to taste)
1 Tbsp SESAME OIL
1 Tbsp CORN STARCH
1 Tbsp SOY SAUCE
¾ cup PEANUTS
3 Tbsp OIL for skillet
Salt and Pepper (to taste)
Sauce Ingredients:
3 Tbsp SOY SAUCE
2 Tbsp RICE VINEGAR
2 tsp SESAME OIL
2 TBSP HOISIN SAUCE
(or sub brown sugar)
1 Tbsp CHILI PASTE
1 Tbsp CORN STARCH
½ cup WATER
directions:
Cut 1 lb. of boneless, skinless chicken into ½"-1″ pieces and place in a bowl. Season meat with salt and pepper to taste, then add 1 Tbsp soy sauce and 1 Tbsp cornstarch. Toss chicken with ingredients until the chicken pieces are coated, then set aside in the fridge.
In a small bowl, combine all of the ingredients listed above for the sauce. Stir until all ingredients are mixed well, and then set aside.
On med. high heat, In a large skillet, heat 3 Tbsp of oil (peanut or canola, or a mix of oil with sesame oil). Add red pepper flakes (or fresh chopped hot peppers), minced garlic, and minced ginger, and stir for a few moments while the garlic colors. Add the coated chicken. Stir and allow the chicken to cook quickly. Brown all sides and cook until chicken is nearly done.
Add chopped bottoms from green onions, diced red pepper (red or orange bell peppers look very nice with this dish), chopped celery, and diced zucchini. Stir with chicken for 2 minutes and then add sauce. Keeping the skillet on med. high, the sauce will bubble and thicken quickly; stir 1-2 minutes and then add peanuts. Stir 1 more minute, then mix in green onion tops. Remove from heat and serve over rice.
And that's it–an Americanized version of a classic Chinese Kung Pao Chicken Recipe. Give this dish a try and let me know what you think…and bon appétit!
And for another Chinese favorite, try this super-duper General Tso's Chicken Recipe.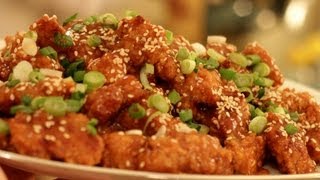 Print Recipe