Try this easy stir-fry kale recipe. Kale is a cool cabbage that kicks broccoli's ass (or at least in this recipe it does).
Kale Recipe Ingredients:
1 bunch KALE
1 inch piece fresh GINGER
1 medium ONION (cut into slices)
½ cup CARROT (thin cut or string cut)
1 hot PEPPER (finely chopped, optional)
1 Tbsp SESAME OIL
SALT (to taste)
1 Tbsp TAHINI
3-4 Tbsp SOY SAUCE
Divide a 1" piece of ginger into two halves. Finely chop one half to use in the sauce and thinly slice the other half and set aside to cook with the stir fry. In a small bowl, mix together the tahini and soy sauce until a thin peanut-buttery consistency is achieved. Mix the finely chopped ginger into the sauce and set aside.
Wash kale, remove spine, and cut or tear into mouth-manageable pieces. Heat the sesame oil on medium high and sauté onion slices and finely chopped pepper for 1 minute. Add a pinch of salt (not much salt will be needed because of the salt in the soy sauce). Add Ginger slices and cook for another minute. Reduce heat to medium and add the kale and carrots. Mix thoroughly with the onion, pepper, and ginger. Cover and allow to cook for 2 minutes. Turn off heat and add sauce. Toss well and serve hot (and it goes great with rice).
Give this healthy kale Recipe a try and let me know what you think, and…
Bon appétit!
Kale Fun Facts:
Kale belongs to the same family as cabbage, Brussels sprouts, and collards.
Kale is packed with antioxidants, which help neutralize harmful free radicals in the body.
One cup of chopped raw kale provides more than 100% of the daily value of vitamins A, C, and K.
Free Radicals are something scientists made up to sound smart.
Want more kale recipe ideas? Try this Kale and Beet Superfood salad Recipe.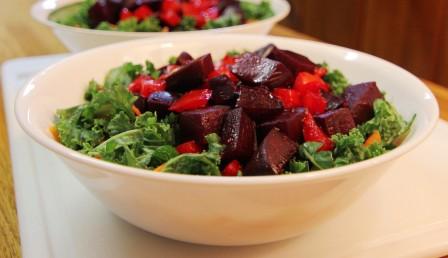 Print Recipe