Try this twist on a jalapeno popper recipe. CG thinks traditional poppers are too cream cheesy –she prefers these less cream cheesy, more meaty cheeseburger jalapeno poppers. They taste fantastic with blue cheese, but use lean ground beef and whatever cheeses you like.
Cheeseburger Jalapeno Popper Ingredients:
10 JALAPENO PEPPERS
½ cup ONION (chopped)
8 oz CREAM CHEESE
8 oz GROUND BEEF (lean)
¼ cup CHEDDAR CHEESE (shredded)
¼ cup BLUE CHEESE (crumbled)
1 cup PANKO BREAD CRUMBS
1 Tbsp WORCESTERSHIRE
SALT and PEPPER to taste
and extra CHEDDAR and BLUE CHEESE
for topping
Jalapeno Popper Directions:
Remove cream cheese from the fridge to soften for half an hour.
In a skillet on medium heat, brown 8 oz of lean ground beef–the leaner the better–you don't want your poppers to be overly greasy! As the beef browns add onions, worcestershire sauce, and salt and pepper to taste. As soon as the beef browns, take the skillet off the heat and allow it to cool, because you don't want to add hot beef to your cheese mixture…it'll just be a mess.
While your seasoned beef cools, prepare the poppers. Carefully slice off the very end of the stems, leaving the interior off the jalapeno intact. Slice the pepper legthwise in half. Using a small spoon, scoop out the seeds and ridges, being careful to leave the end of the jalapeno intact–it'll make a kind of canoe shape.
In a bowl, combine the softened cream cheese, the cooled beef, and ½ cup of your favorite shredded cheeseburger cheeses (we like using blue cheese, cheddar, and monterey jack…although I think blue cheese is best!). Thouroughly mix. It'll be a semi-unattractive bowl of meat-cheese…but that's okay, it'll look better in the pepper.
Using a spoon, stuff the jalapeno halves with the cheese and beef mix. Don't overstuff, just to the top of the pepper.
Spread breadcrumbs on a flat surface, and press the cheesy side of the stuffed pepper into the breadcrumbs to form a coating.
Arrange poppers on a baking sheet and bake in a 400 degree F oven for about 25 minutes.
After about 25 minutes, after once some of the breadcrumb toppings have begun to brown, remove the poppers from the oven and top with additional cheese. I love using blue cheese for this part! –it is delicious–but feel free to use whatever cheese you love (although blue cheese is seriously the best). Return poppers to the oven for 5-10 minutes or until cheese is melted, and then serve. Hope you like it!
Give this jalapeno popper recipe a try and let me know what you think, and bon appétit!
And for a more traditional jalapeno popper recipe, try this cream cheesy BAKED JALAPENO POPPERS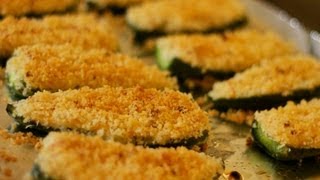 click image for another poppers recipe

Print Recipe