Cauliflower is good and good for you, especially if you curry it up in this very flavorful Indian-style gobi matar.

What You Need To Make Gobi Matar or Cauliflower Curry
1 med CAULIFLOWER (cut into florets)
1 15oz can DICED TOMATOES (or 2 med tomatoes)
1 8oz can GREEN PEAS
1/8 tsp ASAFOETIDA (optional, also called Hing)
1 large ONION (chopped)
1 HOT PEPPER (finely chopped)
1 tsp GINGER (finely chopped)
1 Tbsp GARLIC (finely chopped)
1 tsp CHILI POWDER (sub cumin powder for less heat)
1 tsp CUMIN SEEDS
½ tsp TURMERIC POWDER
1 tsp CORIANDER POWDER
1 tsp GARAM MASALA
2-3 Tbsp OLIVE OIL
¼ cup WATER
SALT (to taste)
How To Make Gobi Matar
In a skillet, heat olive oil on medium high heat.
Add cumin seeds and asafoetida. Seeds will brown and crack quickly.
Add onion and stir.
Cook 1 minute and then add ginger, garlic, and hot pepper.
Continue cooking until onions are soft.
Add turmeric, chili, and coriander powder and mix well.
Stir in tomatoes and continue cooking 4-5 minutes.
Add salt to taste.
As the tomatoes cook down I like to crush them with a spoon.
Stir in cauliflower florets.
Add water and bring dish to a bubble, then reduce heat to a simmer, cover, and let cook 4-5 minutes.
I don't want to cook all the nutrients out of the cauliflower, and I like my florets to still have a bit of crunch to them, so I simmer my cauliflower for only a few minutes.
When the cauliflower is almost cooked to your liking, add garam masala and green peas.
Mix and continue cooking until peas are heated through.
And that's it—your cauliflower and peas will be transformed into something delicious (I know it's hard to believe, but trust me).
And bon appétit!
For another great Indian-inspired dish, try this Chana Masala with Quinoa Recipe.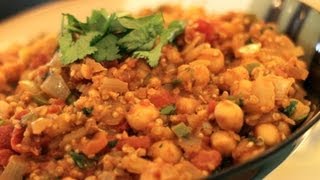 Thanks for checking out some of my easy Indian recipes. Use the links below to share them, and thanks for watching and subscribing!
–Chef Buck

Print Recipe