You can make French Fries without the guilt of eating French fries! Try this roasted vegetable fries recipe. It's a super simple recipe that will maximize taste and nutrition.
Sweet potatoes, parsnips, and carrots make delicious fries, especially with a little mustard and maple syrup thrown into the mix. Give this roasted root vegetable dish a try, and for more video recipes check out the Chef Buck Playlist.
Roasted French Fries Ingredients:
4 Tbsp OLIVE OIL (extra virgin)
3 Tbsp MAPLE SYRUP
3 Tbsp DIJON MUSTARD
SALT and PEPPER to taste
2 med-sized SWEET POTATOES (steak fry-sized pieces)
4 PARSNIPS (peeled, steak fry-sized pieces)
4 CARROTS (steak fry-sized pieces)
1 ONION (sliced)
GARLIC cloves (sliced in halves or whole)
fresh ROSEMARY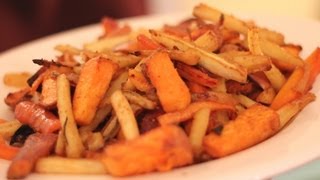 How to Make Roasted French Fries:
Preheat the oven to 425 degrees Fahrenheit.
When slicing the root veggies, leave on the skins if desired; it will add excellent taste and nutritional value and is less wasteful.  
Place the sliced veggies in bowl large enough to mix.
In a smaller bowl, mix together the syrup, mustard, oil, salt and pepper.
Toss the chopped veggies with the syrup mixture, coating the fries well.
Spread the fries out in a single layer onto a cookie sheet; use two sheets if necessary. Make sure the veggies are not piled up or jammed together.
Allow the veggies to roast, turning occasionally, until brown and cooked through [approx. 25 minutes, it will depend on volume and size of veggies].  The longer you cook the fries, the crispier they will become.
These fries make a great side for chicken, beef, and pork entrees, or it's a terrific way to transform a vegetarian meal into a hardy feast.
Give this roasted vegetable French fries recipe a try and let me know what you think, and bon appetit!
And for another tasty veggie side, try this Easy Okra Recipe.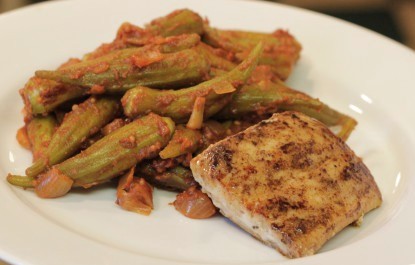 Thanks for checking out my recipes! Comment and share and cook!

Print Recipe