This edamame brown rice recipe is super flavorful, filling, a great side dish, and delicious hot or cold. If you buy frozen soy beans for this dish, make sure they are thawed before using –and shelled!– shelled edamame is called mukimame.
Edamame Brown Rice Recipe
2 inch GINGER, finely chopped
4-5 cloves GARLIC, finely chopped
16 oz bag MUKIMAME (shelled edamame)
¾ cup LONG-GRAIN BROWN RICE
2Tbsp fresh LIME JUICE
2 Tbsp RICE VINEGAR
2 tsp SOY SAUCE
2 tsp SESAME OIL
½-1 tsp SUGAR
3-4 GREEN ONIONS
5 Tbsp CILANTRO, chopped
2 Tbsp SESAME SEEDS, toasted
SALT and PEPPER to taste
How to make Make Edamame with Brown Rice
In a saucepan, heat olive oil over medium-high heat. Saute ginger and garlic for 1-2 minutes until fragrant. Remove garlic and ginger from pan and set aside (I've tried skipping this step, and just continued cooking the garlic and ginger along with the rice, but it's not as flavorful, so it's definitely worth setting the garlic and ginger aside to add to the dish later). In same pan (without rinsing), bring 1½ cups lightly salted water to a boil. Add rice, reduce to a low simmer; cover and cook, 30 minutes.
After 30 minutes, stir in thawed, shelled edamame (mukimame!); cover and cook until rice is tender and mukimame is heated through, about 15 to 20 minutes.
In a small bowl, combine lime juice, vinegar, soy sauce, sesame oil, and sugar and stir until sugar is dissolved.
Remove rice and beans from the stove and add ginger, garlic, lime juice mixture, scallions, cilantro and sesame seeds. Mix well and add additional salt and pepper as desired.
and that's it, dude.
Give this edamame brown rice recipe a try and let me know what you think, and bon appétit!
And for another great vegetarian dish, try this easy, awesome Quinoa Salad Recipe.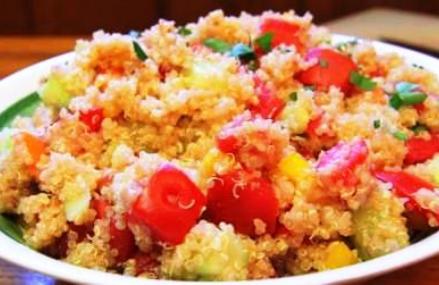 Thanks for checking this edamame recipe out. If you liked it, click a button or two below and share it with friends and family. I appreciate it!
–Chef Buck

Print Recipe