This is a quick chocolate candy recipe treat idea for lazy hosts and lazier guests. Need to provide a tasty dish for a party, but don't have the time? Need it to look homemade even though you don't want to actually make anything? If you're going to a party or having a party, this is an easy dish to whip together with almost zero effort. The most annoying part is unwrapping the candies.
To make this chocolate candy recipe you will need:
MINI PRETZELS
MINI PEANUT BUTTER CUPS
CHOCOLATE CARAMELS (we use Rolos)
PECAN HALVES
Preheat oven to 300 degrees Fahrenheit.
Arrange pretzels on a baking sheet (putting wax paper underneath will make cleanup a breeze). Top each pretzel with a peanut butter cup or chocolate caramel (if it was just me, I'd use only peanut butter cups, but Camera Girl likes the caramels, and it makes for a better variety if you're making the dish for guests). Place baking sheet in oven for 4 minutes to soften chocolates. Remove baking sheet from oven and top softened chocolates with pecan halves. For variety, top some of the chocolates with pretzels. Allow chocolate to cool before removing treats from baking sheet.
That's it! Pretzels, chocolate, and nuts…who doesn't like that? It's easy peezey and a great treat to serve when you don't feel like making a fuss.
So give this quick chocolate candy recipe treat a try and let me know what you think, and…
Bon appétit!
(I like pretzels on the bottom and top with a peanut butter cup in between. Camera girl likes the pretzel on the bottom with pecan half on top and a chocolate caramel in between; she says it's like one of those "turtle" candies. Pecans are okay, but they're too expensive…pretzels and peanut butter cups are all you really need, but get the rest if you're tryin' to be fancy pants.)
And for another yummy dessert, try these Caramel Oatmeal Squares.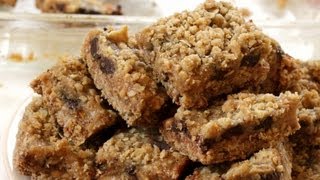 Print Recipe