Camera Girl is cooking up one of my favorites, a pecan chicken quiche recipe! It's super easy and super delicious. Definitely take the time to make this crust, because it's not much time at all, and well worth the effort! This is a great way to use leftover chicken (for best results, avoid canned chicken with this recipe—why would you want to do that to yourself?))
Pecan Chicken Quiche Recipe Ingredients:
Quiche crust:
1 cup ALL PURPOSE FLOUR
1 cup CHEDDAR CHEESE (shredded)
3/4 cup PECANS (chopped)
1/2 tsp SALT
1/4 tsp PAPRIKA
1/3 cup OIL
Quiche filling:
1 cup SOUR CREAM
1/2 cup CHICKEN BROTH
1/4 cup MAYONNAISE
3 Lg EGGS (lightly beaten)
2 cups CHICKEN (cooked, chopped)
1/2 cup CHEDDAR CHEESE (shredded)
1/4 cup ONION (minced)
1/4 tsp DILLWEED (dried)
HOT SAUCE (to taste)
1/4 cup PECANS (chopped)
Make the crust first. Combine all the dry ingredients and mix well. Add vegetable oil and mix thoroughly. Press into a 9" pie tin and bake at 350 degrees Fahrenheit for 12 minutes. Remove from the oven and allow the crust to cool completely. While the crust takes its sweet time, whip up the quiche filling.
In a bowl, combine the sour cream, mayonnaise, chicken broth, and eggs and mix together until smooth. Add the chicken (already cooked and chopped well); this is a great way to use leftover chicken, or simply cook up and chop 3-4 thighs, which is what we usually do. Add shredded cheese, dried dill weed, minced onion, and hot sauce to taste. Mix well and pour into cooled pie crust. Top with chopped pecans and bake at 350 degrees F for 50-60 minutes. The pie will set and be golden brown when finished. Remove from heat and allow to rest 10-15 minutes before serving.
Give this awesome pecan chicken quiche recipe a try and let me know what you think, and…
Bon appétit!
If you like quiche, try a Turkey Pot Pie Recipe.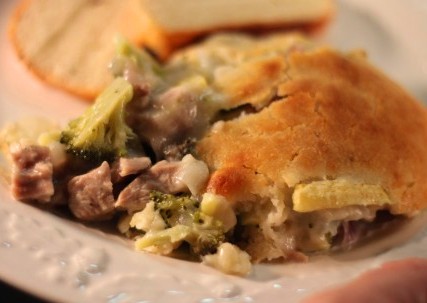 Print Recipe