Chicken curry is delicious and easy to make. I throw a little yogurt in for a tad creaminess, but that's optional, and it'll be tasty either way. Chicken Curry is one of the most popular dishes in the world, and for good reason.
Chicken Curry Ingredients:
2 lbs CHICKEN (boneless/skinned)
2 Tbsp OLIVE OIL
1 tsp BUTTER
1 lg ONION (chopped)
4-5 cloves GARLIC (finely chopped)
1 HOT PEPPER (finely chopped)
1 tsp TURMERIC
1 tsp CHILI POWDER
1 Tbsp CORIANDER
1 Tbsp CUMIN (plus seasoning for chicken)
1 Tbsp GARAM MASALA
1 28oz can CRUSHED TOMATO
¼ cup YOGURT
½ cup CILANTRO (chopped)
SALT and PEPPER to taste
(plus a little SALT, CORIANDER, CUMIN, and CHILI POWDER to season the chicken before cooking)
directions:
Use 2 lbs of skinless, boneless chicken. You can use dark or light meat as you prefer. For this recipe, I like to cut the meat into approx. 1″ pieces and then season generously with salt, cumin, coriander, and chili powder.
Heat oil in a skillet on med. high heat and add seasoned chicken pieces. Sear chicken 5-7 minutes, turning once, and then remove chicken to a plate. Pour off excess fluid in the skillet and add butter. Add finely chopped garlic and hot pepper. Saute for 30 seconds and then add onion. Continue cooking for a couple of minutes. When onions begin to soften, add turmeric, chili powder, coriander, and cumin. Mix well and continue cooking 2 minutes. Stir in crushed tomato. Add salt and a little water, if needed (but not too much water at one time–you don't want the dish to be too wet). Allow the sauce to come to a bubble, reduce the heat, cover and let simmer for 10 minutes.
After 10 minutes, return chicken to the skillet. Mix in Garam Masala, which is a blend of flavors (clove, cinnamon, cardamon, cumin, etc.). You can also spoon in a little plain yogurt, if you like–if I have some yogurt on hand I add it, and if I don't, I don't–it's tasty either way (but yogurt adds a nice touch of creaminess). Add Fresh chopped cilantro and stir well.
And that's it.
Serve the curry over rice with a little flat bread and you've got a delicious Indian-style entree. Give this chicken curry recipe a try and let me know what you think…and bon appétit!
For a super-duper creamy curry, try this Chicken Tika Masala.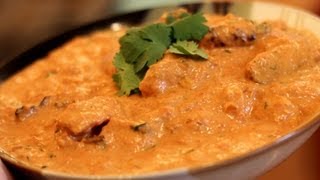 Print Recipe