Chana masala is a delicious Indian chickpea curry. It's easy to make and a great introduction to Indian cooking.
Many chana masala recipes include onion, but I think it's fine with or without; I make so many Indian dishes with onions, it's nice to have a few that are onion-free if desired. I do include asafoetida (hing) and besan (chick pea flour), but those can be optional, too. Chana masala is a very flexible dish. If not using besan, just add ½ cup of water instead of 1 cup. The asafoetida is wonderful. It stinks, but it's still wonderful. It's also called "devil's dung", but that's just when it's raw, once you toss it into a simmering skillet, it transforms into a sharp, oniony weirdness that will pleasantly remind you of your favorite Indian restaurant. I've only been able to find asafoetida at international food markets, but it's worth acquiring—especially if you want to make a habit of cooking great Indian dishes at home. If skipping the asafoetida, try adding 1 finely chopped medium-sized onion between the cumin seeds and the tomatoes. Coriander powder is great in this dish, too. But the way I usually prepare it is like this:
What You Need to Make the Best Chana Masala
1 15 oz can CHICK PEAS (or 2 cups)
1 15 oz can DICED TOMATOES (or 2 fresh diced)
1 tsp GARLIC (minced)
1 tsp GINGER (minced)
1 HOT PEPPER (minced)
1-2 Tbsp OLIVE OIL
1 Tbsp CHICK PEA FLOUR (also called besan)
1 tsp CUMIN SEEDS
1 tsp CHILI POWDER
1 tsp GARAM MASALA
1/8 tsp ASAFOETIDA (optional, also called hing)
½ tsp TUMERIC
SALT (to taste)
Want to see the complete cooking tutorial for the meal pictured above? It's a 40 minute video showing every step of the cooking process. You can watch it here at Cook A Complete Indian Dinner.
How to Make a Chana Masala Recipe
In a skillet, heat oil on medium high heat.
When the oil is heated, add the cumin seeds and asafoetida. Stir and allow to simmer for just a few moments.
Once the seeds begin to crack, add the chick pea flour and continue stirring. The flour will absorb the oil.
Stir for approx. 1 minute and then add the diced tomatoes. Mix well and allow the tomatoes to bubble.  As the tomatoes cook down, you can crush them with your stirrer for a smoother chana massala.
Stir in the minced ginger and garlic and hot pepper.
Add the chili powder and turmeric.
After the tomatoes have cooked 4-5 minutes, add the chick peas, garam masala, and salt to taste.
Mix well and add 1 cup of water. Bring the dish to a bubble, then reduce to a simmer, cover, and allow cooking for 10 minutes.
After 10 minutes, the chick peas will be soft. Use a fork or potato masher to smash some of the chick peas, this will help thicken the chana masala along with the chick pea flour added earlier.
 Simmer uncovered to the desired consistency, remove and serve.
Garnish with fresh coriander leaves. Serve with rice or on its own.
Give this chana masala recipe a try and let me know what you think, and bon appétit!
Want to make another easy Indian Recipe? Try Baingan Bharta — A delicious Eggplant Curry.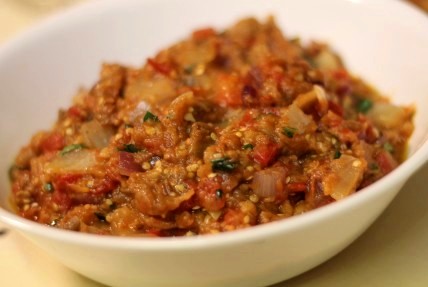 Thanks for checking out this recipe. If you like it, then click some of the buttons below and share it! I appreciate it.
Thanks!
–Chef Buck

Print Recipe