You can make the best cauliflower pizza crust recipe that will not fall apart after baking. Slice it, hold it, eat it–it keeps it's shape–and it actually tastes like pizza! This cauliflower crust pizza is gluten free, healthier than bread dough, and definitely worth trying.

All You Need To Make a Cauliflower Crust Pizza
2 cups of grated CAULIFLOWER
1 cup of freshly grated PARMESAN CHEESE
1 EGG beaten
PARCHMENT PAPER to line your baking sheet
and whatever PIZZA SAUCE and
PIZZA TOPPINGS you desire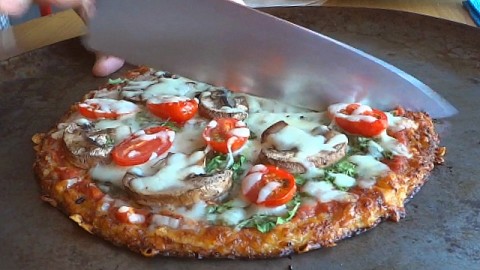 How to Cook the A Cauliflower Crust Pizza Recipe
Grate fresh cauliflower florets into granules resembling "poprocks"
Heat the grated cauliflower in a skillet–don't add oil or water–use medium heat, not too hot. Stir until the cauliflower has dried out somewhat, it won't dry completely, but the dryer the better. Heat at least 10 minutes, just enough to evaporate the moisture, not enough to color or cook down.
Remove skillet from burner and set aside to allow cauliflower to slightly cool.
In a bowl, beat 1 egg.
Add grated Parmesan cheese to the egg. You can substitute, asiago or romano cheeses, just be sure you use a hard cheese for best results.
Add the cauliflower to the bowl and mix well with the egg and cheese and form into a ball.
Spread parchment paper onto a baking sheet. DEFINITELY USE PARCHMENT PAPER, otherwise your crust may tear when you try to pick it up.
Place the balled cauliflower and cheese onto the parchment paper and spread out into a pizza shape about ¼ inch thick. The crust will be about 10″ across.
Do not make the edges of the crust too thin; keep the size of the crust uniform for even cooking. The cauliflower will darken quite rapidly around the edges if too thin.
Place crust into an oven preheated to 400 degrees Fahrenheit and cook approx. 15-20 minutes until the crust has colored and firmed up.
Remove cauliflower pizza crust from the oven and top with your favorite pizza sauce. Use a marinara sauce, pesto, white sauce, or whatever. Top with your favorite pizza toppings.
Return pizza to the oven and continue to cook at 400 F for about 10 minutes until the toppings are done, watch the edges of the cauliflower crust; the edges will darken too much if overcooked.
Remove the pizza from the oven and set on a cooling rack –or don't– this step isn't make or break.
And that's it.
eat and enjoy.
A cauliflower pizza crust will not rise since there is no yeast involved, and since the crust is entirely cauliflower, cheese, and egg, it will not achieve the same crispness as a thin dough pizza. But the pizza will stay together just fine, and will taste very much like a pizza.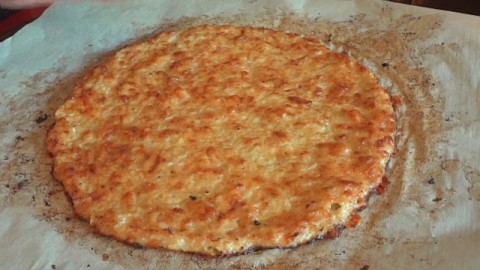 Tips for Making a Cauliflower Pizza Crust That Will Not Fall Apart
Use fresh cauliflower, and only use the florets. Don't allow overly large pieces of cauliflower into the "dough" —
keep the vegetable pieces reasonably uniform.
The dryer the cauliflower pieces the better, but don't be obsessed!
Use only a hard cheese like Parmesan or Romano in the crust mixture, this helps make the crust stable.
Don't make the crust too thick, around ¼" is ideal.
Make the crust a uniform size all the way to the edges so that it will cook evenly.
Cook the cauliflower crust on parchment paper! otherwise the crust will stick and break apart when you try to remove it from the pan.
Spread your pizza sauce almost to the outer edges of the crust; your pie will look better. The cauliflower pizza crust is a healthier choice, but it is not the prettiest pizza crust.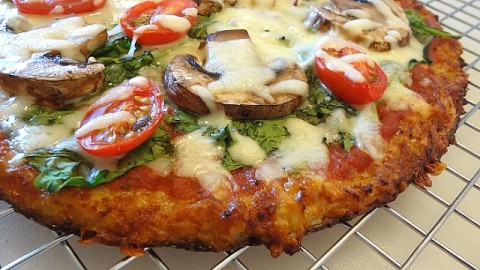 Is a Cauliflower Pizza Crust Healthy ? …well
It provides more nutrition.
It adds less empty calories.
It's gluten-free.
And it works. It's a great alternative to a bready pizza crust that will satisfy your pizza needs.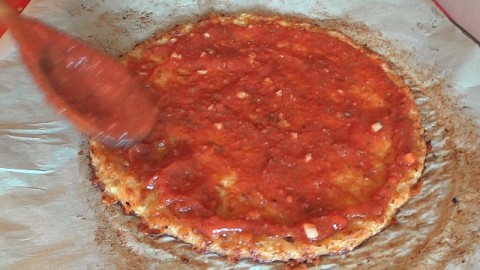 How to Make an easy Homemade Pizza Sauce
The key to a good pizza is a good sauce, and it's easy to make a simple pizza sauce at home that will suit your tastes exactly.
You'll need:
1 can of TOMATO SAUCE
some DRIED THYME
some DRIED OREGANO
some DRIED BASIL
some GARLIC POWDER
or fresh chopped GARLIC
SALT and PEPPER
and for a little kick, add a little fresh or dried HOT PEPPER
Add the seasonings to taste. The key to a great homemade pizza sauce is making it at least a day in advance. Keep a jar of sauce in your fridge. You can use it on pizzas, but also on sandwiches, as a dip, or part of a marinara sauce for any Italian inspired dish.
Definitely give this cauliflower pizza crust recipe a try and let me know what you think. If you liked it, then why not share with your friends? click some of the buttons below to share with friends and family. Thanks a lot!
–Chef Buck
And if you're in too big a rush to make any kind of pizza crust at all, then you can always throw together a Quick Pita Pizza