You can make a super simple and tasty candied pecan treat. This sugar pecan recipe
is an easy way to impress friends and family. My mom gives tins of pecan candy out
as gifts for the holidays, and it's a sure hit for any party or get-together.
CG especially likes these nuts as ice cream toppings.
What You Need to Make candied Pecans
1 lb. PECANS
1 cup SUGAR
1 tsp CINNAMON
½ tsp SALT
1 EGG WHITE
1 Tbsp WATER
How to make Pecan Candies
Buy a pound of pecan halves. When buying, be sure to choose pecans that are in good shape
…a bag of broken and busted up pecans doesn't look as pretty in a dish.
In a bowl, combine the cinnamon, sugar, and salt, and then mix well.
Set that bowl aside, and in another bowl, combine 1 egg white and 1 Tbsp. of water.
Whisk the egg white and water into a frothy foam.
Add the pecan halves into the egg white mix.
By hand, mix the pecans until coated thoroughly.
Once the pecans are coated completely, transfer then into the dry mix bowl. Still using your hand,
mix the pecans in the cinnamon sugar until they are coated well.
On an ungreased baking sheet, spead the coated pecans into a single layer.
Place the baking sheet in an oven preheated to 300 degrees Fahrenheit.
Remove the baking sheet every 10 minutes to give the pecans a stir and spread them out again; this will let the pecans bake evenly and keep from sticking together.
After a total of 30 minutes baking time, remove the pecans for a final stir, then set aside to cool.
That's it. As soon as they're cool enough to eat, then eat away.
Be sure to allow the pecans to cool completely before sealing in a container.
These sugar pecan candies make a great holiday treat or anytime treat. My mom makes them all the time for family gatherings and they're
a sure fire hit.
Give this candied pecans recipe a try and let me know what you think, and bon appétit!
For another easy way to use pecans, check out this Chocolate Pecan Recipe cheat that kinda looks homemade, but really isn't; it's an ideal recipe for folks who have to make a dish and have zero time.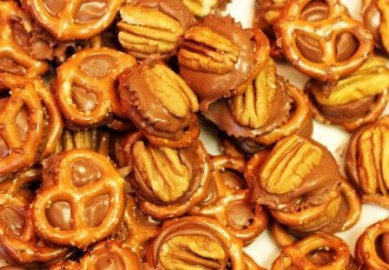 If you liked the pecans, then click a button or two below and share the recipe, I appreciate it!
— Chef Buck

Print Recipe