This is my absolute favorite Brussels Sprouts recipe. it's super tasty, simple to make, and a healthy choice, too, so definitely give it a try.
Give this recipe a try and let me know what you think.
Brussels Sprouts Recipe Ingredients:
1½ lbs BRUSSELS SPROUTS
3-4 Tbsp OLIVE OIL
½ ONION (chopped)
4-5 cloves GARLIC (finely chopped)
1 LEMON zest and juice
½ cup WATER
SALT and PEPPER, to taste

How to Cook Brussels Sprouts
Wash 1½ lbs sprouts. Cut off the ends and discard outer leaves. Slice sprouts into halves, or larger sprouts into 3rds.
Heat 3-4 Tbsp oil in a skillet on high heat–you want the skillet to be hot to sear the sprouts–and don't be shy with the olive oil.
Add Brussels sprouts.
They should start to sizzle and pop right away. Let set before stirring to get a seared edge. Turn sprouts and continue to sear.
After 4-5 minutes, stir in onion and garlic and continue to cook on high to med. high heat, searing and turning another 3-4 minutes.
Then reduce heat to medium and add water. Add seasoning.
Stir, cover, and let cook 4-5 minutes.
Then turn off heat, stir in lemon zest and lemon juice, and serve.
Give this Brussels Sprouts Recipe a try and let me know what you think, and bon Appetit!
And if you're still in the mood for foods that start with "B", try this Beet Recipe.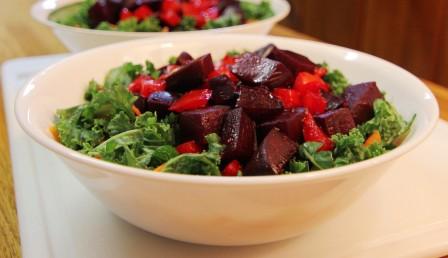 Brussels Sprouts Fun Facts:
-89% of all children despise Brussels Sprouts.
-3/4 of all convicted felons do not eat Brussels sprouts.
-Albert Einstein considered the Brussels Sprout to be the most compact cabbage, relatively speaking.
-Even children who dislike the taste of Brussels sprouts appreciate the vegetable for it's "slingshotability"
-Every U.S. president has loved Brussels sprouts and eaten them routinely.
Thanks for checking out the recipe. If you liked it, press a button or two below and share it with your friends.
I appreciate it!
–Chef Buck

Print Recipe