You can make this blackberry cobbler recipe using any kind of berries or fruit. CG loves to use oatmeal when she can, which pairs well with the flour to make the batter for this dessert.
BERRY COBBLER Recipe
ingredients:
2 cups BERRIES (any kind)
1 Tbsp CORN STARCH
1 cup QUICK OATS
½ cup ALL-PURPOSE FLOUR
1½ tsp BAKING POWDER
1 tsp CINNAMON (optional)
½ cup SUGAR (use partial brown sugar if desired)
¼ cup BUTTER
1 lg EGG
½ tsp VANILLA EXTRACT
¼ cup MILK
Use any berries you like for this cobbler dessert–it's a cobbler, but with a little twist on the batter–we're pairing Quick-cook Oatmeal along with the flour. This recipe doesn't make a huge amount, but it's perfect for about 4 human-sized portions–just double the recipe for a bigger dessert. We're using blackberries because we've got fresh ones.
To start, put your berries in a bowl and add 2-4 Tbsp of sugar–if desired–if your berries are already sweet enough, don't bother with the added sugar. Add corn starch and toss with the berries and set aside.
In a second bowl, combine your Quick Oats, all-purpose flour, baking powder, and sugar. Mix Thoroughly, then cut butter into the mix. Stir until the butter is integrated into the mix, then add 1 beaten egg, vanilla extract, and milk. We're using almond milk, but use whatever kind of milk you like. Stir ingredients together.
Grease an 8×8 oven friendly dish (we're using an 8″ deep dish pie tin with a little butter spray). Spread the berry mixture evenly on the bottom of the dish, and then top the berries with spoonfuls of the batter. Don't worry about spreading the batter neatly, spoon it evenly around the top and it will spread evenly in the oven. Place the dish in an oven pre-heated to 350 degrees F and let bake for about 30 minutes until the topping is a golden brown. If your cooking dish is particularly small, place it on a baking sheet or tinfoil to catch any drippings.
Let the cobbler cool for 10-15 minutes and then serve with ice cream (or without ice cream, but that would be crazy).
For another great dessert, try this delicious but deadly Scone Recipe.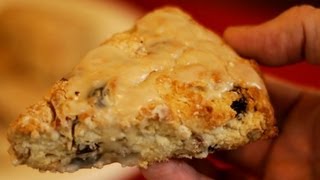 Print Recipe