This Black-Eyed Peas Recipe is yummy anytime, and a particularly delicious way to get your black-eyed peas fix on New Years Day. Bacon, jalapeno, and black-eyed peas are a tasty combo that cooks up super simple, and adding a touch of flour gravies up the dish nicely. It makes a great side dish.
Black-Eyed Peas Recipe Ingredients:
15 oz can BLACK-EYED PEAS
3 slices BACON
JALAPENO SLICES (to taste)
1 tsp FLOUR
1 tsp BUTTER (if lean bacon)
¾ cup WATER
Black-Eyed Peas Recipe Directions:
First thing, fry up the bacon. I like to use 3 strips of bacon for each 15 oz can of beans (black-eyed peas are beans, dude).
Use only 2 strips if you like–but I like mine bacon-y, and I bet you will, too.
Once the bacon is cooked close to your liking, remove from the skillet and slice into bite sizes.
Return bacon to the skillet, and add jalapenos to taste. Saute bacon and jalapenos for about 1 minute.
If there is a tsp or more of bacon fat in the skillet, add flour…if the bacon is lean, with little grease, melt 1 tsp of butter and then add flour.
Stir ingredients for about 1 minute.
Add 15 oz. can of drained and rinsed black-eyed peas to the skillet. Mix with ingredients and let cook 1 minute.
Stir in ¾ cup water. Bring skillet to a bubble, then reduce to a simmer and cook uncovered for about 5 minutes.
Add additional water as needed, but not too much.
The flour will thicken into a gravy.
And that's it!
This dish makes a great side for pork chops, fish,–you name it! I like to pair it up with liver and onions–super delicious!
Give this black-eyed peas recipe a go and let me know what you think, and bon appétit!
And for another tasty black-eyed peas recipe, try out this Black-Eyed Pea Salad Recipe.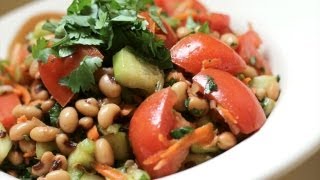 Print Recipe