What is banh tet?
Banh tet is a rice cake, and a staple dish served to celebrate the Lunar New Year in Vietnam. It's a very popular dish in Vietnamese culture, and if you live near a Vietnamese market or deli, you'll probably be able to give it a try–and I recommend you do. It's pretty tasty, kind of addictive, and a bargain dish in the International District in Seattle. I've eaten several bánh tét since shooting this video, and I see many more in my future.
Making bánh tét often begins the day before Tét. The ingredients are prepared then cooked for at least six hours in a pot of boiling water. Glutinous rice, mung bean paste, and cooked pork fat are the main ingredients. The ingredients are layered on top of banana leaves and then wrapped tightly together with string. Bánh tét are generally wrapped several times with a string before boiling in a large pot of water to prevent the banana leaf from coming apart during cooking. The cake is savory, but sometimes sweetened, and tastes great with chili sauce.
What is a Banh Mi Sandwich?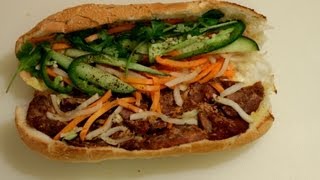 Print Recipe