This baked eggs recipe is a delicious treat for breakfast or brunch, and it's cheap to prepare, even though it looks like some rich dude's breakfast. I'm throwing spinach, tomato, and Parmesan cheese in this recipe, but it's a versatile dish, and anything that'll work in an omelet will work in this preparation. For a spicier version–add a dash or two of hot sauce as the tomatoes cook.
Baked Eggs Recipe Ingredients:
2 EGGS
1 Tbsp OLIVE OIL
1 cup fresh SPINACH
1 GREEN ONION (chopped)
1 sm ROMA TOMATO (chopped)
¼ tsp GARLIC (minced)
¼ tsp dried THYME
¼ cup shredded PARMESAN CHEESE
2 Tbsp HALF N HALF
SALT and PEPPER to taste
sprinkle of PAPRIKA
fresh herb for GARNISH
Directions:
Heat oil on med high in a small saute pan. Add garlic and chopped bottoms of the green onion. Saute for 1 minute and then add the tomato. Continue to saute for 2 minutes and then add salt, pepper, and thyme. Mix and cook for 1 minute. Add green onion tops and spinach.
Saute until spinach is wilted and then transfer contents of skillet to a small, oven-friendly dish.
Spread the spinach and tomato mixture on the bottom of the dish. Drizzle the half n half over top and then sprinkle with ¾'s of the shredded Parmesan cheese.
Break two eggs into small ramekins and then gently place the eggs–with yolks intact–over top of the cheese. Place the eggs side-by-side and centered in the dish. The dish should be small enough that the uncooked whites spread to the edges.
Place in an oven preheated to 375 degrees F. (If the baking dish is small, place it on a pan before putting it in the oven)
Bake 15-20 minutes, or until the eggs are set and cooked to desired doneness.
When eggs are finished baking, top with remaining Parmesan cheese. Sprinkle with paprika and then garnish with fresh parsley, or basil, or cilantro, or whatever–but a touch of freshly chopped green will make this dish quite lovely.
Serve right away–eggs are best hot, dude.
Give this baked egg recipe a try and let me know what you think, and bon appétit!
And for another fancy pants breakfast dish, try this Salmon and Poached Egg Recipe.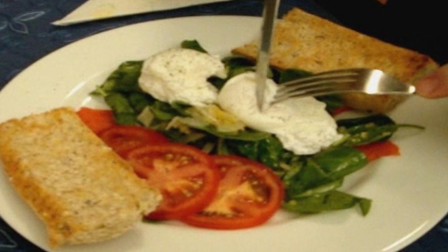 Print Recipe