Asparagus is one of those veggies you cook when you're trying to impress–and this asparagus recipe will do the job. The lemon adds a nice zing while the whole fennel/mustard seeds add flavor and texture without overpowering the great taste of asparagus.
Asparagus Recipe Ingredients:
1½ lb. ASPARAGUS
1 small LEMON (zest and juice)
2 Tbsp OLIVE OIL
½ tsp FENNEL SEEDS
½ tsp MUSTARD SEEDS
3-4 cloves GARLIC (or more…go for it, dude)
1 inch GINGER (which should end up being between 1-2 Tbsp thinly sliced)
SALT and PEPPER to taste
When buying asparagus, thin is better than thick. Choose firm spears. Avoid asparagus that have a wrinkled skin, or tips that are wet and greasy looking. Rinse and drain the asparagus spears, then chop into 1 inch pieces. When slicing, leave the tops of the spears intact so they don't fall apart while cooking. Heat olive oil on medium heat in a skillet. When oil is hot, add mustard and fennel seeds and stir for 20-30 seconds–not long at all. Add garlic and ginger–a lot of ginger; I use about 1 inch, thinly sliced–about the size of a fish scale. Stir skillet 1 minute, lower heat if necessary.
Stir in asparagus. Add salt and pepper to taste. I like my asparagus to retain a bit of crunch–who likes mushy asparagus?–so this dish doesn't take long to cook. Saute for about 4 minutes and the dish will be done. From the time you add the seeds to completion, the cooking time will only be about 5 minutes–of course you can extend the cooking time if YOU DO like softer asparagus (crazy!)–but everybody likes what they like, so namaste, man. About a minute before the dish is done, add the lemon zest. When the asparagus is crunchy or soft the way you like it, and you're ready to get it off the heat, add the lemon juice, stir, and serve.
It's a tasty asparagus dish and a perfect side for a nice steak (or whatever).
Give this asparagus recipe a try and let me know what you think, and bon appétit!
If you enjoy asparagus, you likely love this Brussels Sprouts Recipe.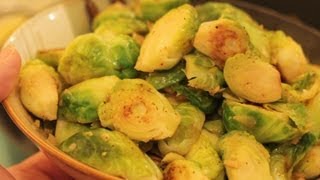 Print Recipe